Business
Motley Fool Money Returns to Campus for Live-Taping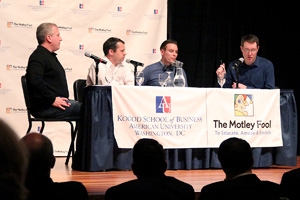 How has the rough winter impacted the financial world? What's the monetary value of this year's Academy Award goodie bag?
What does the collapse of Bitcoin exchange platform Mt. Gox mean for the digital currency?
This and more was discussed during the live taping of the Motley Fool Money radio show on campus Thursday, February 27. For the second year, the gang from the Alexandria, Virginia-based company recorded their top-rated show from the Abramson Family Recital Hall in the Katzen Arts Center.
Professor Jeffrey Harris, faculty advisor of the Student Managed Investment Fund (SMIF) and the Gary D. Cohn Goldman Sachs Chair in Finance welcomed the show back to campus. Three of his SMIF students participated in the show's stocks to watch segment.

Nick Mairone, BSF '14, pitched energy company Hess Corporation (HES) during the show.
"Hess is in a good spot where they're not too small that they can't diversify their holdings and work new technologies but they're not a giant like Exxon who is so big they can't be flexible," he said.
Jonathan Wallen, BS/CAS '15 and finance minor in Kogod, chose biomedical company Myriad Genetics (MYGN) as his stock.
"There have been a few recent catalysts [in the genetic screening world] that are only going to make Myriad more successful," he said.
And Randy Nordby, MSF '15, pitched data security firm Checkpoint Software (CHKP), citing the recent security breaches at companies like Target as increasing the public's desire for increased network security.
Read about last year's taping here.