On Campus
Dean Welcomes Students to Kogod for "Even Greater Year"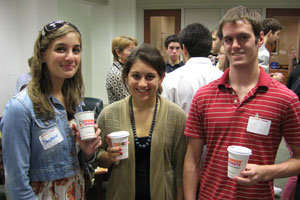 "Kogod had a banner year last year, and that just makes things even brighter this year," said Robert and Arlene Kogod Dean Richard M. Durand. "Everything is in place for an even greater year." 
Dean Durand, along with Senior Associate Dean Kathleen Getz, Lawrence Ward, Associate Dean for Academic Programs, and Phyllis Peres, Vice Provost for Undergraduate Studies, will connect with undergraduate students at the annual "Dunkin' with the Deans" breakfast on September 22.

"These events help me to get to know the students better and find out what's on their minds," Durand said.  He also encourages students to take advantage of the opportunity to network with their peers.
"The breakfast gives students a chance to get to know each other better. Events like this facilitate long term relationships that will last after graduation," Durand continued. 
New initiatives at Kogod this year include new study abroad programs, the undergraduate entrepreneurship specialization and additional career related programming from the Kogod Center for Career Development. Student groups and co-curricular groups also continue to build a strong Kogod community.
Along with the addition of new faculty members, including five new executives-in-residence, key staff members have been hired to support the school's initiatives.
The state-of-the-art Financial Services and Information Technology Lab has a newly appointed director, Octavian Iconici, who brings a wealth of real-world experience. Arlene Hill, the Kogod Center for Career Development's new director, brings a strong background in higher education and industry experience in project management. And finally, Anne Ferrante, recently named Director of Graduate Programs, will oversee the MBA, MS degrees, dual degrees and certificate programs. She is charged with advancing graduate students' experience at Kogod.
This semester also marks the first fall term for the college's $14 million building expansion. New furniture and other improvements to the surroundings strengthen the sense of community at Kogod and make students, faculty and staff feel good about where they live and work.  
Dunkin' with the Deans will be held from 9:30-10:00 a.m. on Tuesday, September 22 in the Kogod Student Lounge.  This event is co-sponsored by the Undergraduate Business Association and K-LAB.