Business
MBA Students Learn Strategies to Succeed in Today's Job Market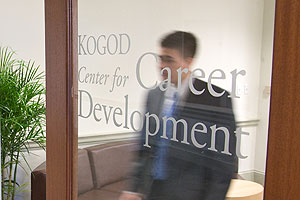 It is no secret that the current job market is challenging, and the large numbers of recent MBA graduates up the ante. 
The Kogod School of Business is dedicated to providing students with the tools for lifelong career development. That framework is being delivered in a newly designed Career Management course for first-year MBA students, taught by Arlene Hill, Director of the Kogod Center for Career Development (KCCD) and Jennifer Murphy, Associate Director of Career Management.

"The Career Management class is intended to keep students on track," said Hill.  "We recognize that graduate students are busy with classes, internships and jobs, families, and co-curricular activities.  This course is designed to provide students a planned time to commit to their career goals."
The class is divided into three sequential modules, the second of which can be flexed to fit each student's personal career development timeline. The first focuses on self-assessment and preparation for MBA career fairs.  During the second module, students create a personal brand and learn how to compete in today's economy. Finally, during the third module, they concentrate on living the brand.  Additionally, part-time MBA students learn strategies for internal positioning within their current companies.
"I believe all MBA programs should include a career management course in the first-year curriculum to ensure students stay on track and plan their class schedules and career exploration accordingly," said first year MBA Monica Chinisaz.  "I am unsure of what industry I would like to enter upon completing my MBA, but the course and the professors provide an open forum for discussion to help us explore our different options."
CareerLeader, an online career assessment tool, is used in class to confirm -- or reaffirm -- a student's career path.  Course assignments include updating resumes and cover letters; creating career action plans, targeted employer lists, and salary position statements; and completing informational and mock interviews.
"It is very comforting to discover the career resources available at this early a stage in my MBA career. The course provides a structured approach for helping me complete my resume and includes a helpful resume peer-review session," said Chinisaz.