News
Students and Donors Meet and Share Success Stories at Annual Celebration of Scholarships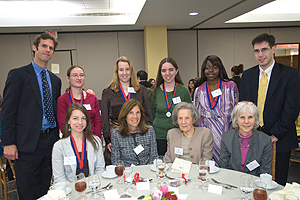 More than 250 scholarship donors, student recipients, and faculty gathered in Mary Graydon Center's University Club on March 25 for AU's Celebration of Scholarships. 
The 12th annual luncheon offered students the chance to thank the donors whose contributions toward student scholarships make possible an AU education. 
For donors and friends, the event provided a genial atmosphere in which to meet the students whose lives they have positively influenced through their generous investment in AU scholarships.
Gail Short Hanson, vice president of Campus Life, served as master of ceremonies for the event, which included a welcome address by University President Neil Kerwin and keynote remarks from Caroline E. Johnson, SPA/BA '09. Johnson, a recipient of AU's Paul Howard Clarke, Paul Ager Clarke, and Isabella Ager Clarke Endowed Scholarship for outstanding undergraduate students in the School of Public Affairs, was recently honored as the first-ever AU student named to the USA Today All-USA College Academic First Team. Guests were also treated to a musical performance by jazz duo Joseph A. Berman, CAS/BA '09 and Luke O. Stewart, SIS-CAS/BA '08.
In his address, President Neil Kerwin, SPA/BA '71, discussed how the scholastic and professional achievements of AU students – many of them scholarship recipients – have helped bring unprecedented attention to AU. This growth in quality and national recognition in academics, student experiences, and engagement with Washington and global affairs, he continued, provides an opportunity for scholarship donors to play a strong role in helping AU to attract the highest caliber students and provide them with experiences they might not otherwise have had. He encouraged students to view their scholarships as a lesson in helping others, pass along this ideal, and integrate it into their lives.
Johnson shared highlights of her dazzling academic career at AU. She discussed forging relationships with AU professors; participation in campus organizations including Student Advocates for Native Communities and the Alternative Break Program; university-funded opportunities to conduct and present rigorous academic research on a national platform; and her legislative fellowship in Pierre, S.D. She also addressed the difference scholarships have made on her ability to make the most of her time at AU.
"I wish to thank all of the donors in this room, and those unable to celebrate with us today, for your generous gifts," she said. "Because of you, the students sitting next to you and I have been able to take full advantage of our college experience, pursue our goals, and achieve our full potential. Scholarships encourage and reward students who do their best and aspire to learn all they can."
More than 400 extraordinary students received financial assistance from donor-funded scholarships and fellowships in the 2008-2009 academic year alone. Since the launch of the AnewAU campaign, nearly 70 new endowed scholarships have been created by generous university donors. Endowed scholarships provide resources for AU students based on both need and merit. The AnewAU campaign includes many opportunities to provide scholarship support and other lasting legacies that will have direct impact on AU students.