Research
Master of Illusions on NatGeo Program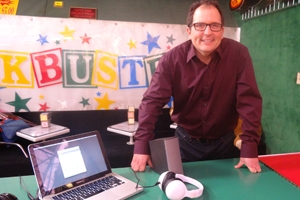 When Arthur Shapiro appears in the April 29 episode of National Geographic Channel's Brain Games, expect to see some mind-blowing revelations about illusions.
After all, when it comes to entries for the annual Best Illusion of the Year Contest, sponsored by the Neural Correlate Society (a nonprofit organization that promotes scientific research and education in the neural correlates of cognition), nobody else comes close.
This year again, Shapiro is in the running with the finalists—after 11 top-10 placements in past years, including two first-place illusions, one second-place illusion, and two third-place illusions. He'll present his new illusion May 13 at the Neural Correlate Society's competition in Naples, Florida.
No wonder NatGeo flew the AU psychology professor out to Circus Circus in Las Vegas to film him discussing the workings of the brain. "What the brain is always trying to do is figure out how things have changed," Shapiro says in the interview. "And motion is an exquisite way of figuring [that] out."
You can see some of Shapiro's illusions here, but the important point to know is that the illusions are created not to dazzle viewers but to illustrate a point about visual science.
After returning from a sabbatical at the University of Cambridge in 2001, Shapiro began working on visual science problems whose solution "expressed themselves in terms of an illusion, something that was compelling to look at." Coincidentally, this was about the time that the Best Illusion of the Year contest began.
By participating in the contest, Shapiro, who has been publishing research on vision science since 1992 and is currently editing The Oxford Compendium of Visual Illusions, could suddenly potentially reach a much greater number of people than the small coterie of experts that academic specialists tend to attract.
The Neural Correlate Society contest, where attendees vote for the best illusion, typically draws 700 or more people, and the best illusions website has millions of visitors. Brain Games will give his research further exposure. The launch of the National Geographic Channel series, on April 22, had 1.5 million viewers, the highest-rated series beginning in the channel's history.
"When you do basic vision science, you take one dimension, you manipulate it and you see how things change. You figure out mathematical models that can fit your data; you test specific hypotheses. It's really good, it's really important, I love doing these types of experiments," he says with a smile. "But when you do this type of research, you may get the respect of 30 fellow researchers. When I express my work in terms of visual illusions, I am able to convey similar ideas about vision and the brain, but thousands of people are interested."
The Best Illusion of the Year contest allows Shapiro and others to pose as compelling illusions problems such as how the visual system organizes objects and the importance of color.
"Suddenly you have a way of approaching vision science that appeals to a larger audience and can pull people into the field and convince them why these questions are worth studying and why you don't have easy answers to them."
What does Shapiro think makes a good illusion?
"Everyone's going to have a different take on that. If you're an artist, a good illusion may be one with aesthetic appeal. From my point of view, a good illusion is one that is instructive about the visual system, says something fundamental about how our brain is processing the world, and is compelling enough that there's no obvious answer."
Just a few weeks before his presentation, Shapiro's understandably a little cagey about this year's top-10 finalist illusion, which he collaborated on with AU education student Alex Rose-Henig. The illusion is called "Tusi or not Tusi," a reference to the thirteenth-century Persian scholar Nasir al-Din al-Tusi. (You can check out a quick biography here, and an animation of a Tusi-couple, which relates to Shapiro's new illusion, here.)
"The brain is really extraordinary. Illusions allow you to ponder how the brain works." Shapiro adds with a laugh, "It's mind-boggling."
The third show in the 12-part Brain Games series, "Motion Commotion," can be seen at 9 p.m. Monday, April 29, on the National Geographic Channel.