In the Community
Sonenshine Discusses Collaboration and Cooperation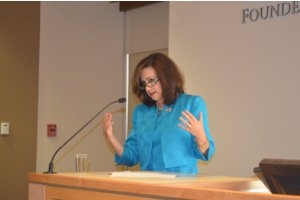 Undersecretary of State for Public Diplomacy and Public Affairs Tara Sonenshine spoke to faculty, staff and students Oct. 17. The program was sponsored by SIS's International Communication program and the newly-formed Public and Cultural Diplomacy Forum, housed at SIS.

Associate Dean for Undergraduate Education Patrick Thaddeus Jackson delivered the opening remarks. "From French-speaking elites meeting behind closed doors to virtual exchanges of tweets and YouTube videos, diplomacy remains centrally concerned with encountering, engaging and often participating with others in common endeavors," Jackson said. The informal motto of SIS is 'Waging peace since 1957.' The means may have changed, but the basic goal - to explore the potential for peaceful coexistence and mutually enriching transactions whether economic, cultural or political - is the same."

Sonenshine defined public diplomacy as using cultural achievements to build trust overseas. "Both Hollywood and Washington understand the power of collaboration - talking about ideas and listening to other people," she said.

However, Sonenshine explained, public diplomacy is more than just bringing culture to the table. Social media and networking are essential to the process. "It's not just feel-good stuff," she said. "It's about our national security interests and the recognition that we can't do it alone."

She offered advice to the assembled students. "Be listeners. The whole point of public diplomacy is not talking in one direction, but listening in multiple directions. People want to know that their voice matters."