Business
Learning to Use Analytics, Tech to Empower Decisions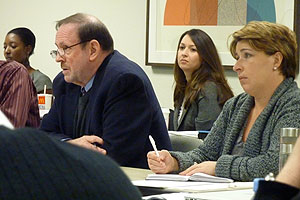 What if you could anticipate the results of your decisions – thus being totally confident in your choices?
What if your business could?
It can, say practitioners in the growing field of business intelligence – a practice that capitalizes on the volumes of data many modern companies have at their disposal thanks to Enterprise Resource Planning, or ERP, systems. It's about transforming that information into action, to predict the results of business decisions with more certainty than ever before. It's about reaching across all units of the whole organization and tackling real-time data that is continually shifting.
And Kogod graduate students are not only studying the theory of BI in Professor Bill DeLone's new course, ITEC-656: Business Intelligence. They're also getting hands-on experience with state-of-the-art software and input from a successful practitioner, Yana McConaty, MBA '98. A former student of DeLone's, McConaty collaborated with him on the course's content.
"The difference between a successful MBA graduate and a not-as-successful MBA graduate is one is empowered by technology," McConaty said. "It doesn't matter that you're an MBA, you still have to be IT-savvy – that's what people are hiring. That's what we are hiring."
McConaty would know. She's a co-founder and principal of Washington, DC-based Neubrain, where she leads the Business Intelligence and Performance Management consulting practice. Neubrain advises clients as varied as retailers Sephora and Charlotte Russe to restaurant chain Buffalo Wild Wings to the government of Howard County, Maryland.
"There's not a company out there that doesn't have at least one flavor of BI," she said.
That is one of the reasons DeLone decided to introduce the course after Kogod IT Executive Council member and IBM executive Nicole Gardner suggested it.
"It's a hot topic for major consulting companies such as IBM, in addition to others," said DeLone, who leads AU's Center for Research, Teaching, and Learning (CTRL) and is director of the Kogod Center for Information Technology in a Global Economy (CITGE).
Thirty-four students signed up for the course, including two consultants at Computer Sciences Corporation (CSC). who enrolled purely for professional development.
Kogod alum Javaid Alim signed on after he worked on a project with a technical team at his employer, Howard Hughes Medical Institute, and became interested in BI.
"I was particularly interested in finding out how other organizations have implemented BI and some of the best practices they followed," Aim said. "Overall, this was one of the best classes I have taken at AU."
Alim said he found the exposure to the BI software tool Board particularly useful – a product that McConaty negotiated to have installed in the Kogod FSIT lab gratis. Board allows analysts to use data modeling techniques to analyze business patterns and empower business decisions. Neubrain also sponsored a week of intensive Board training for the class' teaching assistant, Kunal Khurana MBA '10, so he could assist the students with their Board projects.
A former finance student, Khurana has found his new skill set very marketable, and has several job interviews lined up. "Most BI software is similar, so once you've learned one, it's easy to adapt to other programs," he explained.
In keeping with his market-driven approach, DeLone also brought BI practitioners into the classroom. In November, four speakers from IBM's Public Sector Consulting group shared broad concepts and detailed case studies with the class.
"The current information environment is at a tipping point," said Darcie Piechowski, BSBA '08. She presented a case study on how the U.S. military used BI to cut lethal war wounds by 58 percent between 2001 and 2004, during wars in Iraq and Afghanistan. Experts analyzed factors such as distance from treatment facilities and wound types to make specific recommendations to commanding officers that decreased preventable injuries. 
Whether it's in a combat situation, a hospital, or a boardroom, BI allows practitioners to pull insight from the "noise," dig for root causes and achjeve better results.
"You don't need huge teams [to do BI], you just need very specialized, very knowledgeable folks in the industry and in the analytics," McConaty said.