Alumni
Alumnus Returns to Teach Taxation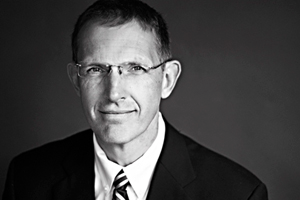 Just three years after graduating from Kogod's MS in Taxation degree program, Evan Liddiard has returned to teach in the very classrooms he was a student in.
Liddiard's career in tax spans more than 30 years. He has worked at two Big Four firms, completed two stints on Capitol Hill, and can now add adjunct professor to his resume.
"I first became interested in teaching when Professor Don Williamson gave me the opportunity to guest lecture for his tax policy class," Liddiard said. "I started thinking that I might really enjoy showing students how the tax law they are studying so intently came about." He now teaches tax policy, ACCT-750.
"I find teaching exciting and stimulating…it's fun to watch them see the big picture, perhaps for the first time."
Liddiard's desire to learn about tax, started soon after he received his undergraduate degree in accounting. Time and family kept him from pursuing an MST until 2006.
"When the time was right, I looked around the D.C. area and found that Kogod's program was the best one available," he said. Working on the Hill during the day, Liddiard took classes in the evening.
Some of the technical demands of the program were a challenge, but Liddiard enjoyed digging back into the code. "The field of taxation is always changing; it's a continual learning process," he said.
He enjoyed being able to contribute in class when questions came up about the current state of tax issues.
Policy Wonk
Liddiard's interest and knowledge of tax policy and practice runs deep.
Prior to Kogod, Liddiard earned his master's in legislative affairs, strengthening his tax policy understanding. His MST provided the equivalent skills and knowledge on the practice side.
"I wanted to prepare for post-Senate opportunities that could take me in either direction, or both, ideally," he said.
He now works at Urban Swirski & Associates, a tax advocacy firm, helping clients to understand the legislative world and assisting them in enacting provisions. Day-to-day, Liddiard meets with members of Congress and their staff, monitors developments on Capitol Hill, and devises tax strategies for his clients. He is also a practicing CPA.
His advice to individuals considering an MST at Kogod: "Do it. It's a lot of work, but the classes are relevant, the professors are great, and you'll be making an investment that will pay dividends for the rest of your life."