Business and Economics
Indonesian Viewpoint of the Global Financial Crisis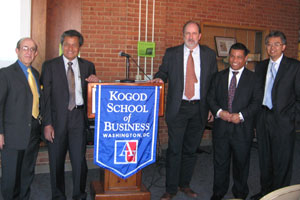 Stability and stimulus led the discussion during the April Ambassador Speaker Series at the Kogod School of Business. Executive Director of the International Monetary Fund Perry Warjiyo provided students with a new perspective by examining current economic issues through the lens of Indonesia.

Warjiyo, who previously served as the Director of Policy for the Bank Indonesia recalled the financial crisis that gripped Indonesia in the late 1990s that led to a major restructuring of the country's financial sector. He believes the lessons learned during the Indonesian downturn can be applied globally today.  "The immediate policy priority is to secure macroeconomic and financial stability, while providing stimulus to mitigate further economic downturn," Warjiyo said. 

Currently Indonesia is experiencing a decline in exports due to the weaker external demand, which Warjiyo attributes to the global recession and drop in commodity prices.  Throughout the country, the impact of the global financial crisis is being felt in trade and financial markets.

Warjiyo believes Indonesia will stimulate domestic demand to mitigate the impact of declining trade and external borrowing.  Policy changes in the works include income tax reduction, increased income tax brackets, corporate dividend tax reduction, and tax subsidies to the ten most affected industries.

Looking ahead, Warjiyo stated that Indonesia will continue structural and governance reforms to generate strong and sustainable economic development in the upcoming years.