Business
Work Hard, Play Hard: Conor Osborne Named a Three-Time Patriot League Academic Honor Roll Athlete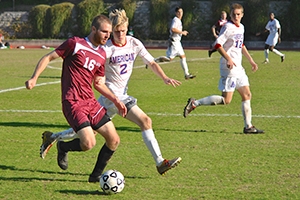 Even as a toddler, Conor Osborne felt most at home on the soccer field.
"Ever since I started [my] first recreational league when I was three, I loved it," said Osborne, BSBA '15. "It wasn't really hard to keep my interest from there."
Osborne's love for soccer took him through an extensive high school athletic career in his hometown of Radnor, Pennsylvania. As a sophomore, he was named offensive MVP after leading the team in scoring. But Osborne's involvement in athletics didn't stop him from exceptional performance off the field: he graduated with a 3.8 GPA.
He carried his dedication for soccer and academics with him to AU, where he has been named to the Patriot League Academic Honor Roll each of his three years on the team.
Reaching Division I
"I'm pretty high energy, pretty aggressive. I like to get forward and be all over the place, anywhere I can be," Osborne said.
Osborne's energetic attitude enabled him to successfully transition to a new environment at Kogod and AU.
"The college transition was definitely a little bit different, just in terms of how much time [spent] on the road," Osborne said. "During the week you could be going to any number of places, different states, just for a night game on a Wednesday, and all the while, you're trying to study for your economics test on Thursday morning."
Despite his busy schedule, Osborne has continued to succeed both athletically and academically, following in the footsteps of fellow AU Men's Soccer player and Scholar Athlete of the Year for 2014, Colin Seigfreid, BSBA '14.
"I'd say [Conor's] evolved into one of the team leaders," said Todd West, Head Men's Soccer Coach. "We challenge our student athletes, and 'student' comes first. He's very motivated to excel in both [athletics and academics]."
Going Pro
Osborne is also tackling the professional world. This summer, he's interning with Swiss-owned insurance company Zurich North America, an internship he found through the athletic advising support group.
"[The office] was really helpful with putting me in contact with them, and getting me to where I needed to be in terms of interviewing and preparing for everything."
As he approaches his final season at AU, Osborne is optimistic.
"Sophomore year, we were fortunate enough to go undefeated in the Patriot League. That season was really special for me," Osborne said. "Unfortunately we weren't able to lock up the tournament, but that's something we can hopefully accomplish this year. [It's] definitely motivation for the future."
While playing professionally is unlikely, Osborne doesn't have any plans to give up the game entirely.
"Soccer's been a cornerstone of my life, as early as I can remember. Although I may not be playing professionally, I'll play wherever I can, at the highest level that I can balance both work and soccer."