Alumni
French Army Honors Kogod Alumnus Serving in National Guard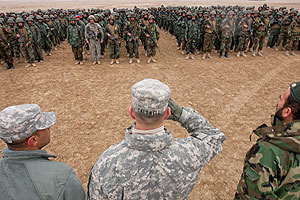 Kogod alumnus and U.S. National Guard Officer Maj. Jeff Ritsick, MBA '09, was recently awarded the French National Defense Medal. The gold medal was created in 1982 and is an honor that France bestows upon those that have aided its defense.
"I'm pretty excited really," Ritsick told the Hazelton, Pa. Standard Speaker. "It's quite rare for U.S. service members to be acknowledged by a foreign nation with an award. Normally these things are reserved for the highest ranking generals, so for me it is a great honor."
The French army honored him for his contributions toward positive relations between the U.S. and French soldiers stationed at Camp Blackhorse in Pol-e Charki, Afghanistan.
Ritsick is currently in his second volunteered combat tour and is the garrison commander of Camp Blackhorse, which is where the Afghanistan National Army receives its training.
"The French have an important role mentoring an Afghan National Army (ANA) Brigade. They are conducting combat operations with the Afghans and we provide them with a working camp that has all the facilities and amenities one would expect and desire in a combat zone," he said in the article. He also compared his job to that of a general manager for a large hotel.
Professor Ghiyath Nakshbendi taught Ritsick in his last semester at Kogod. "He is a highly motivated MBA with keen business sense, a wonderful sense of humor, and a good storyteller," Nakshbendi said. Ritsick developed an imports business plan while in Nakshbendi's Export-Import Management course and had planned to follow-up on it after retiring from the service.
Before his deployment, Ritsick worked in Washington D.C. with several military offices. He has also been awarded the Bronze Star Medal twice, the Army Commendation Medal for gallantry, and the Combat Infantryman's Badge.
He will return home to Arlington, Va. this month and will serve at the Pentagon.