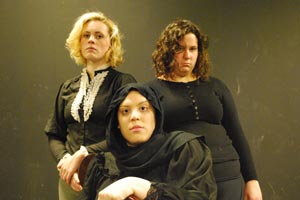 The Department of Performing Arts will be presenting Federico García Lorca's The House of Bernarda Alba (La Casa de Bernarda Alba), translated by Emily Mann. It will be performed in the Studio Theatre, Katzen Arts Center from February 25-27.
The House of Bernarda Alba was venerated Spanish writer Lorca's last work, written a mere three months before his death in August 1936. Written in the time leading up to the Spanish Civil War, the play's oppressive atmosphere and emotional intensity reflect the increasingly stifling social environment of the rising fascist regime. A tyrannical mother shuts her five daughters away for eight years of mourning after the death of her husband. As her daughters are confined to their house deep emotions and secret longings are amplified, with tragic results.
Director Javier Rivera says although he has directed this play before it is a favorite, "I gravitate towards family issue plays, and plays that are character-driven more than anything—simple story lines propelled by an inner passion," the theater professor says. "This is just a beautiful, amazing piece."
Born and raised in Guaynabo, Puerto Rico, Rivera received his BA in theatre and education from American University and his MFA in theatre from the University of Missouri-Kansas City. He has appeared in numerous productions across the United States and received the 2003 Princess Grace Award for excellence in theatre.
For additional information and tickets for these performances, please visit http://American.tix.com/.