On Campus
Breakfast event is networking treat for students, faculty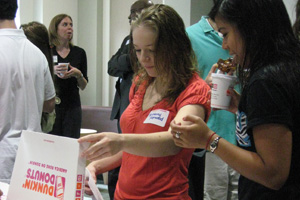 The Kogod Student Lounge was abuzz Tuesday morning.
It wasn't just the free coffee; the room was full of Kogod students, faculty, and staff, in addition to the Kogod deans and special guest Vice Provost for Undergraduate Studies Phyllis Peres.
The Dunkin' with the Deans breakfast was in full swing.
Undergraduate Business Association President Alex Feld woke up early and paid a visit to the Dunkin' Donuts in Bethesda to collect donuts and coffee for the attendees. Once the job was done, he took a breakfast break with UBA CFO Sam Gilbert.
Senior Accounting major Jeff Wilson had a chance to speak with Robert and Arlene Kogod Dean Richard M. Durand. "Events like this increase the dean's presence among students," Wilson said. "It reminds you there's one more impetus for your success."
Tony Bouselli headed down to the breakfast after his instructor, Professor Sue Marcum, encouraged her accounting class to attend.
The perks weren't just on the students' side, however.
"I'm responsible in many ways for the academic success of the students," said Vice Provost for Undergraduate Studies Phyllis Peres. "This is a wonderful way to meet them and hear how they're doing."
The event was co-sponsored by the Undergraduate Business Association and K-LAB.