Alumni
Alumnus, Retired Professor to be Honored at 10th Dean's Dinner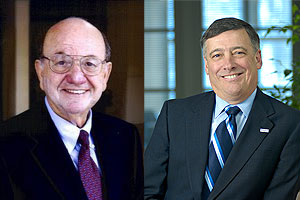 The Kogod School of Business will honor Michael Kushner (BSBA '92 / MSA '95) and Realtor Chair Professor Emeritus Maury Seldin this month at the 10th Annual Dean's Dinner. The April 15 event is a tribute to alumni, parents, and friends who have made considerable gifts to the school during the last and current fiscal year.
Kushner will receive the Dean's Alumni Award, which honors an alumnus who has distinguished himself in the community, professional field, or service to the school. Kushner is Global Controller for Fixed Income at JPMorgan Chase, he has held numerous positions over the last 13 years, including CFO for Risk, CFO for Technology, Operations, and Real Estate and Head of Planning & Analysis.
Kushner has strongly encouraged JPMorgan's recruitment efforts at Kogod, which have led to the hire of more than 20 full-time employees and summer interns. He feels strongly that Wall Street firms should consider Kogod students for energetic, well spoken, tech-savvy job candidates who are up-to-date on current events. He credits Robert and Arlene Kogod Dean Richard M. Durand as one of the reasons he heartily supports the school.
"[Dean Durand] is taking the school where it needs to go. He has clear and measurable goals and I am supportive of that," Kushner wrote in an e-mail.
Kushner is also active in the community and is a co-trustee with the Abrams Foundation, an NPO that supports Philadelphia and central New Jersey charities focused on education, senior living, children and community organizations. Kushner grew up in the suburbs of Philadelphia.
Kushner lives in New York with his wife, Alison, and baby daughter Melissa.
Seldin is to be awarded the Kogod Community Leadership Award for his exceptional leadership in business and significant impact in the community. Seldin was a Kogod faculty member for 25 years from 1965-1990, when he taught real estate investment strategy, market analysis and real estate administration.  He also stepped up at a time of need and served as acting dean for one year.
Seldin did extensive outreach to the Washington, D.C. real estate community during his time at Kogod, and recruited professional mortgage bankers, realtors and scholars to teach.
Since his retirement from Kogod, Seldin has remained committed to academia. He supports interdisciplinary research on improving real estate decision making at the Homer Hoyt Advanced Studies Institute, which was later renamed the Maury Seldin Advanced Studies Institute after 25 years of Seldin's leadership. He retired from the ASI as president and chairman, and presently remains chairman of the Homer Hoyt Institute, a separate entity.
Many of Seldin's former students will celebrate his visit at a luncheon in his honor on April 14 at the Cosmos Club. Some graduated decades ago and the chance to reconnect with them in person is something Seldin says he is looking forward to it "as a great treat for himself."
"The first community that I served was the students," Seldin explains. "Many of the awards I've received are symbolic of my concern for the students and helping them in their careers."
April 15th's program includes a cocktail reception to be held at the Kogod School of Business, with dinner to follow in the Katzen Arts Center Rotunda.