On Campus
Two Days, Two Networking Opportunities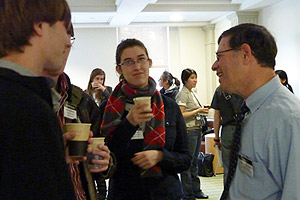 On February 17, Jennifer O'Connell (BSBA '05) got to share what she loves about her job at FTI Consulting with students who are in the position she was five years ago – looking for a post-graduation direction.
At the Kogod Center for Career Development's Consulting Day, O'Connell spoke with a sampling of the 100 students in attendance, sharing what she loves about her job. "Everyone I work with is so smart," she told one student, adding that her colleagues – both superiors and peers – are always willing to help each other. She explained the recruiting process that she went through two years ago and encouraged them to consider applying.
"I haven't been back to Kogod since I graduated, and I can't believe how much it's changed since then," O'Connell said. She added that the networking event was a good way for students to narrow down their interest in consulting. "Consulting is such a broad field and there are so many opportunities – it's good for people to get an idea of what different firms do."
David Ledet of Hagerty Consulting was one of about 40 representatives from 14 different companies in attendance. Ledet's firm specializes in public sector consulting, frequently on the topic of emergency management. Though much of the Chicago-based firm's projects are based in DC, this was its first local recruiting event.
"We're primarily looking for independent contractors and alumni with a financial background," Ledet, a managing associate, explained. "We're always open to hiring people if we found the right person." Representatives from yet another employer, Protiviti Inc., were sharing information about Protiviti's summer internship program; as the 2010 program is full, they encouraged students to visit the website and consider applying for 2011. The company also has open positions for graduates.
An internal auditing firm that also handles risk and business consulting, Protiviti has a unique relationship with American University: it serves as the university's internal auditor.
"The candidate pool is interested, articulate, well-represented," said Andrew Struthers-Kennedy.
Network or Perish
The second networking opportunity of the week followed on Thursday with the reception for the canceled 2010 Kogod Case Competition. More than 100 student participants, judges, and faculty attended – including Richard Linowes and David Gage, who shared details of the case's outcome. Judge Edward DeSalvio (BSBA '73), a managing director with The Bank of New York Mellon, traveled to D.C. for the reception and give a presentation on the distressed newspaper industry the following day. DeSalvio made it to exit No. 7 on the New Jersey Turnpike the morning before the competition before he got a call from fellow alumnus and judge Jeff Zyontz informing him of the weather cancellation.
He commiserated with the community's disappointment over the cancelation. "It was a fine case – with an international bent," said DeSalvio, who also served as a judge in 2009. "This year's case seemed more mathematical and placed an emphasis on cost analysis."
Graduate student Jon Thompson and his team, Terra Firma, were disappointed over the last-minute cancelation.
"I thought we had a pretty good chance of winning it," he conceded. They planned to propose a partnership between the box manufacturer and a regional pizza company as well as restructuring of the machinery equipment.
After talking with Associate Director of Programming and Student Activities Tracy Landers, Terra Firma decided to participate in George Washington University's International MBA Case Competition in March.