Sebert '08 Lands Job at Financial Times
By Rosemary D'Amour
September 13, 2010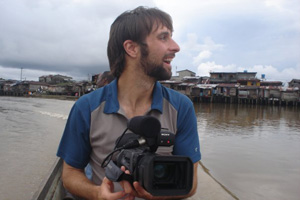 Lagan Sebert, SOC/MA '08, was something of a prodigy during his time at American. And now, just two years after completing his degree in broadcast journalism, Sebert is one of two US-based video journalists for the Financial Times, a target he aimed for well before graduating.
"I've always had a goal of doing international video journalism, and going to work at the Financial Times, I will be able to do that," Sebert says. "It really is a culmination of all my work up to this point, and what I set out to do."
This latest step for Sebert follows a position as a reporter and managing multimedia producer with the Huffington Post Investigative Fund.
"Honestly, I think that all my opportunities have come out of AU," Sebert says. "For me, the journalism master's program was the perfect way for me to become a full-time professional journalist."
The one-year program was busy for Sebert. In addition to internships at WAMU, NPR's local affiliate, and with the American News Project, Sebert won the AU Visions Award for best long-form documentary, the Jack Jury Award, and the Merriman Award.
The program's experiential learning element was key, he says. "It's very much focused on output, on actually doing things, and it's really up to the student to take advantage of all the resources that are at your fingertips."
Sebert received critical acclaim for much of his work at AU, but none so much as Busco Personas: the Faces of Colombia's War, a documentary he made for a summer class at AU.
"The idea was to tell the story of internal refugees in Colombia, of how the wars affected these rural communities through the voices of the people who have lost their homes," Sebert says. The film was shot in three separate areas of Colombia over 10 days, and resulted in an Audience Award at the American Film Institute's Film Festival in 2008.
"It was a bit beyond my experience level at that point, so we had to kind of rise to the occasion," Sebert says. "The whole thing was a learning process, but it was something I was really passionate about and I wanted to make it something people would watch."
Sebert's experiences as a student and after have prepared him for his opportunity at the Financial Times. And experience, he says, will be a deciding factor for anyone interested in landing a job.
"It's much easier to come to someone with a body of work than it is to say 'I have a degree, I want to do these things, and I think I can do them,'" Sebert says. "Having a portfolio is probably the most important aspect of succeeding in journalism at this point."