Achievements
Finance Students Grab Top Slots for Commencement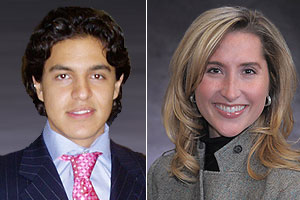 Alexis Bawden, MBA'09 and Mario Beltran, BSBA '09 will share two important experiences from their time at the Kogod School of Business. Both dedicated their time to the study of finance and both will serve as student commencement speakers at the Business School's inaugural independent graduation ceremony.
These two active members of the student body were chosen by the School's selection committee for their thoughtful essay submissions.
Bawden, Executive Chair of American University's Graduate Leadership Council has represented Kogod at a range of events during her tenure at the University and has her sights set on achieving great heights after graduation. She will return to her native California to work for Goldman Sachs in their San Francisco office.
"The interactions I have had with fellow colleagues, faculty and administrations at the Kogod School of Business and the greater American University community has demonstrated the importance of trust and teamwork," wrote Bawden in her commencement submission. "I learned, in order to improve and accelerate any initiative, you must be able to rely on those involved." 
Beltran will represent the more than 200 undergraduate students donning collegiate regalia for the first time at Kogod's ceremony. Founder and President of the Hispanic Business Association on campus, he has spent the past two summers as a finance analyst for JPMorgan Chase and will join the firm's New York city office after graduation.
"I knew it [graduation] was the perfect opportunity to finally express all my escalating emotions about the conclusion of an important journey in all of our lives," he wrote to the commencement committee.  "In addition, speaking about the experiences we have been through and my pride and appreciation for this institution, gives me a strong sense of fulfillment after years of hard work and enormous personal growth."
Kogod's ceremony will be held on Sunday, May 10 at 9 a.m.  The Kogod class of 2009 will also hear from keynote speaker Gary Cohn (KSB' 82).  Mr. Cohn is the president and chief operating officer of Goldman Sachs, a member of AU's Board of Trustees, and a graduate of the BSBA program.