International
Real Students, Real Stories, Real Time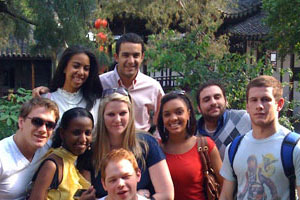 This summer Kogod School of Business students are spanning the globe in pursuit of hands-on business experience and out-of-classroom learning opportunities.
For the first time, the business school is tracking four different student experiences on three continents through student-driven blogs.  Kogod's blog series, "An American Perspective," is designed to provide students, faculty and staff with the opportunity to share their experiences in real time and to capture their impressions and comments.
The blog series began in late May with "Kogod in China", a blog written by Kogod undergraduate and graduate students traveling in China with professors Frank DuBois and Robert Sicina. The professors and students logged their thoughts as they crisscrossed the vast Asian country, from Pudong to Nanjing and several stops in between. Undergraduate Mark Mutlugolu on the trip shared his first impressions of China on the blog, "I have traveled to more 30 countries in my life. Some are more developed and some are less, but I have never seen anything like China."
MBA student Lisa Anderson provided a detailed look at her experience at the WHU–Otto Beisheim School of Management (Stiftung Wissenschaftliche Hochschule für Unternehmensführung) with "Kogod in Germany," as she participated in their European Summer Institute, an alternative to an exchange semester, and offers a targeted and compact insight on international business in Europe.
Two Kogod MBA students are pursuing their passion for business in Africa this summer with Abby Crowshaw interning for Yehu Microfinance in Mombasa, Kenya and Ryan Walther interning for Satemwa Tea and Coffee Estate's corporate social responsibility program in Thyolo, Malawi. On his departure blog post, Walther remarked, "I am leaving June 4 for Malawi. The flight will take me through Dubai and then Johannesburg, and from there we will take another flight to Blantyre, Malawi. From Blantyre we'll take a Dala-Dala, which is usually a small bus or a minibus, to Thyolo, Malawi, which is where the study will be carried out."