Achievements
Dean Starr Receives French Medal of Honor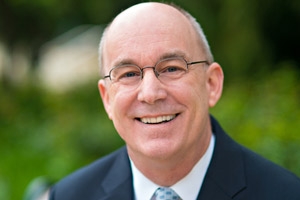 In the fall of 2013, Peter Starr, dean of the College of Arts and Sciences, was named a Chevalier de l'Ordre des Palmes Académiques—a knight in the Order of Academic Palms—for his work in promoting French language and culture in the United States. 
"I am honored and humbled that the French government has chosen to recognize my work with such a distinguished award," says Starr. "As both a scholar and as a dean, I can testify that France understands the power of cultural diplomacy in a way that few other nations do." 
Before joining the College as dean in July 2009, Starr was a professor of French and comparative literature at the University of Southern California. A renowned scholar of French literature and literary theory, he is the author of three books: Logics of Failed Revolt: French Theory after May '68 (Stanford, 1995); Commemorating Trauma: The Paris Commune and Its Cultural Aftermath (Fordham, 2006); and We the Paranoid (2008), a web-based, multimedia project. Starr received a BA from Stanford University and an MA and PhD from Johns Hopkins University. 
The French Order of Chivalry was created by Emperor Napoleon in 1808 to honor members of the University of Paris. In 1955, French president René Coty expanded the order to its current decoration for academics and cultural and educational figures.