Alum's Video Receives Emmy Nomination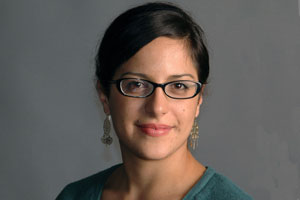 An interactive news package featuring video by Alexandra Garcia, SOC/BA '05, has been nominated for a Emmy Award. The Healing Fields documents an annual pilgrimage made by thousands of uninsured and underinsured patients to Wise County, VA, in the hopes of receiving medical and dental treatment from the Remote Area Medical Volunteer Corps.  It has been nominated in the New Approaches to News & Documentary Programming: Current News Coverage category.
Garcia's video, The Healing Fields: Hidden Hurt, has already won the Concentra Award for Outstanding Video Journalism. The award recognizes one piece each year by a journalist who reports, shoots and edits the story. Garcia, who lives in Arlington, says she is glad that the attention her work is receiving allows the stories of people in rural Southwest Virginia to be heard on a national and international stage.
The project grew out of a story running in The Washington Post Magazine that former managing editor for multimedia Tom Kennedy seized on as an opportunity for an interactive piece. Garcia traveled to the RAM site and spent three days getting to know the people she filmed, and letting them tell their own stories in her video for the interactive, Hidden Hurt.
"I definitely wouldn't be where I am if not for AU," says Garcia, who started at washingtonpost.com as an intern doing photo editing for Kennedy. She landed the position with the help of professor Bill Gentile, whose PBS NOW piece, Afghanistan: The Forgotten War, has also been nominated for an Emmy this year. Professor Leena Jayaswal was also "a huge influence in encouraging my photography during my time at AU."
After graduation, Garcia was hired full time as a photo editor, and eventually transitioned to her current position as a video journalist for washingtonpost.com. Her latest project is Scene In, a series of short videos checking out the style sense of Washingtonians across the city.