Alumni
Annual Kogod Dean's Dinner Honors Commitment to School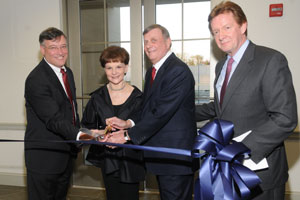 The Kogod School of Business honored Gary Veloric (KSB '82), David Nason (KSB '92), and Michel Le Goc, this month at the 9th Annual Dean's Dinner and Kogod building expansion opening celebration. The Kogod Dean's Dinner is a tribute to alumni, parents, and friends who have made substantial gifts during the past fiscal year to the School.  
Gary Veloric received the Dean's Alumni Award, which honors an alumnus who has distinguished themselves in the community, in their professional field, or in service to the School. Veloric is the founder of Red Stripe Plane Group, a family of companies focused on entertainment, fashion and music, as well as J. G. Wentworth, the leading direct-to-consumer buyer of liquid financial assets.
Veloric's interest in entertainment and music dates back to his days at AU. As a student, Veloric and two other classmates, Gary Cohn and David Cohen, lead the campus concert committee bringing great acts to campus ranging from The Police to the Buddy Rich Orchestra.
Currently, Veloric also serves on the Kogod Advisory Council.
"Gary is always thinking of ways to advance the school, and serves as an advocate on our behalf. We greatly appreciate his time, generous support, and enthusiasm," said Dean Richard Durand.

David Nason was the recipient of the Kogod Community Leadership Award, which honors individuals who have demonstrated exceptional leadership in business and who have made a significant impact on their company and in their community. Nason served as Assistant Secretary for Financial Institutions, as a principal policy advisor to former Treasury Secretary Henry Paulson. 
While presenting his award, Richard Durand stated, "We are fortunate to have talented individuals like Dave who willingly take time from their careers to serve the public." Nason was recently named a managing director for Promontory Financial Group, a global consulting firm for financial services companies.  
During the evenings festivities Michel Le Goc was honored as a distinguished businessman, educator, and parent of two Kogod alumni, for his service. Le Goc, previously an adjunct professor, was instrumental in the creation of a partnership between Kogod and ESCP-EAP, the number two business school in Europe.
The event also featured a ribbon cutting ceremony with Robert and Arlene Kogod - for whom the school is named, Dean Richard Durand, and President Neil Kerwin. The Dean's Dinner was the conclusion of a week of celebratory events opening the Kogod building extension.