In the Community
John Prendergast, SIS/MA '90, Gave 2009 SIS Commencement Speech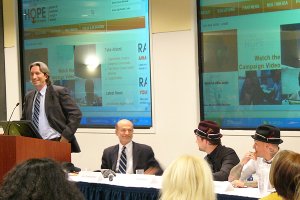 American University's School of International Service (SIS) chose alumnus John Prendergast, SIS/MA '90, to be its 2009 Commencement Speaker.
As an SIS student in International Development, Prendergast focused on conflict resolution in Africa, work he has continued as the co-founder of the Enough Project, which strives to end conflict and genocide in Africa and a former member of the Clinton administration (as Director of African Affairs at the National Security Council). Prendergast was chosen, according to SIS Dean Louis W. Goodman, for his "outstanding advocacy and policy work on Africa." In February, Prendergast spoke at AU with Joel and Benji Madden of Good Charlotte on "Conflict Cell Phones and Central Africa."
Prendergast is the author of over eight books on Africa, including Not on My Watch, coauthored with actor and activist Don Cheadle, and authored pieces in The New York Times, The Wall Street Journal, The Huffington Post, and USA Today. In addition to writing, Prendergast has appeared on CNN and the BBC, speaking out against genocide, war crimes, and human rights.
SIS Commencement occurred on Sunday, May 10, at 1 p.m. in Bender Arena. Watch Prendergast's speech and read the transcript here.