Arts and Culture
Washington National Opera Institute at American University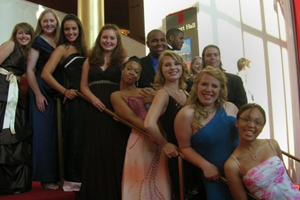 This spring, American University entered an agreement with the Washington National Opera that established an affiliation between the university and the Washington National Opera Institute.
The summer institute provides 15–18 year old high school singers and accompanists with high-caliber opera and classical voice training. It will be held at AU's Katzen Arts Center June 22–July 11. Performances will take place Friday, July 10, at the Katzen, and Saturday, July 11, at the Kennedy Center Millennium Stage.
Members of the College of Arts and Science's music and performing arts faculty will serve as guest instructors in the program. In addition, a select group of AU music students will have the opportunity to take institute classes for audit.
Founded in 1956, the Washington National Opera is currently under the direction of Plácido Domingo. The company is known internationally for its commitment to promoting new American opera and cultivating young opera talent.