Class Notables
Tom Shales, SOC/BA '67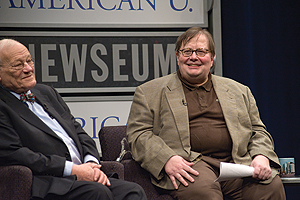 Imagine this amazing gig for a major newspaper: watching TV all day long and penning witty columns about whichever shows either rock your boat or make you reach for the remote. Just a day in the life of Tom Shales, the TV critic for the Washington Post. Or is it?
"Boredom compounded by tedium," is how Shales describes his average day. "A great deal of harassment from various sources and a lot of guilt over work that I was supposed to finish the night before."
His voice is a deep rumble as he talks about growing up in Elgin, Illinois, where he amused his eighth-grade teacher, Mrs. Peterson, by stringing 25 random vocabulary words into humorous narratives.
"I liked writing," he says. While a schoolboy, Shales realized that if his essays were entertaining and well written, the teachers tended to overlook the sloppiness and the penmanship.
In addition to Mrs. Peterson, Shales credits his mother, Jack Paar, and Pauline Kael, "who was as brilliant a writer as she was a critic," for inspiring him to write.
In high school, "a crusty old newspaper man" taught the journalism class and Shales rose to become newspaper editor, a position he also held for the Eagle while an AU student.
One of Shales's most memorable professors was Harry "Light Horse" Lee, a charming Southerner who often wandered around the room as he talked. For one assignment, Shales had to write a biographical article about Charlie Chaplin. Lee hated it. "He said it was lousy and the words were dead. It read like an encyclopedia entry," Shales recalls. Good writers win over their readers with lively prose, Lee opined.
Shales took to heart this pithy advice. "I have an attitude about life," he says. "It's a sardonic way of taking things, not being melodramatic. I would rather laugh than despair."
In 1972, Shales joined the Washington Post as a writer for the Style section; five years later he was named chief television critic and TV editor with a syndicated column. There he won the Pulitzer Prize for "television criticism" in 1988, which he modestly says he earned not so much for good writing, but for the relevance of his work to society at large.
"Television and I have the same life span," Shales says. Ever since television came into our homes nearly 70 years ago, it's been increasingly relevant as a source of news and entertainment. "I've always loved TV," he says. "It's both an art form that can be moving and magnificent and utilitarian for information. I remember when it was considered amazing."

Over the years, he's observed a lot of changes in how we watch TV as well as what's on TV. "It used to be a family watching together. Now there is a TV in every room with shows for every demographic." He also doesn't mince words when discussing reality TV. "People don't demand quality television anymore," he says. "These shows don't require professional performers. Someone realized that ordinary life can be television and doesn't need to be written in advance." The result is shows with "essentially sleazy, voyeuristic appeal," he grumbles.
For Shales, quality television was classic hits like I Love Lucy, What's My Line, All in the Family, The Cosby Show, and Saturday Night Live.

He counts "six or seven, but four in working order" TV sets in his house, and watches the tube four to five hours a day, which is below the national average. Since the explosion of cable, Shales says "now [it] is harder than ever to decide what show may be interesting, good, or bad." He decides which shows merit his critique by reading advance materials or focusing on certain writers, directors, or stars. "Or sometimes [I pick a show to review] because it's something I can have fun with," he admits. "I always hope my antenna is turned the right way to pick up what's new and innovative and interesting." Always included in his weekly viewing line-up however is Saturday Night Live because "Live from New York," he says gives him a "weekly fix of beautifully executed political satire."