Class Notables
Esther Benjamin, SIS/MA '92, CAS/MA '95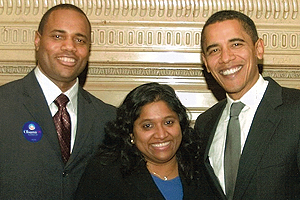 As a child, Esther Benjamin immigrated to the United States from Sri Lanka, leaving behind a brutal civil war, and bringing with her an innate willingness to make a difference. 
"Seeing how my country of birth has been torn apart by civil war over the past 25 years has had a major impact on my life," she explains. "My commitment to international service and global development is part of who I am. I wake up every morning inspired to do this work."
That drive has led her to become a White House Fellow, a United Nations humanitarian affairs officer, and a Brookings Institution and World Bank research analyst.

Global public health is the issue that now occupies Benjamin professionally.

As executive director for resource development at the seven-year-old nonprofit International Partnership for Microbicides (IPM), Benjamin says,"My life mission has always focused on connecting first-world resources with third-world needs. In my position at IPM, I've been able to leverage political and financial support for a cause that could truly transform the lives of millions of women who are at risk of HIV infection." IPM develops products that women in developing countries could use to protect themselves from HIV. In her two short years with the organization, Benjamin has helped to raise millions of dollars and rallied political support for product development efforts throughout Europe and North America.
The recent presidential election brought Benjamin back to the White House. She was tapped by the Obama-Biden Presidential Transition Team to review key international agencies and initiatives, including the Millennium Challenge Corporation and the U.S. President's Emergency Plan for AIDS Relief.
The three-month project was "more than a full-time job," confides Benjamin, and "a great honor and one of the most intense and incredible professional experiences of my career."
"We reviewed a wide range of issues, from economic development and food security, to education and global health. It was a tremendous opportunity to understand the current issues and the challenges at the highest levels of development agencies, and to develop options, strategies, and priorities for the new administration," she says.

She's lucky, says Benjamin, to have such a breadth of professional experiences, from the U.N. to the U.S. government to international nonprofits. "I come from humble beginnings, but I have been blessed with many great opportunities, and with that comes the responsibility to give back."