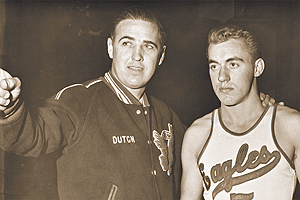 When a baseball was pitched to him, Dutch hit it. When a basketball made its way into his hands, he scored, and when a football sailed his way, he caught it. When his bowling ball collided with pins they tumbled, when a fish swam near his line, he hooked it. Dutch drove a golf ball down the middle of the fairway, and smoothly stroked winners down the line on the tennis court. In a swimming pool, he glided through the water as effortlessly as a dolphin.
Nearly a half century before Robert Redford on the silver screen, Dutch Schulze, CAS/BS '41, MA '61, was American University's version of
The Natural.
A husband, father, patriot, player, coach, and administrator, Dutch held AU close to his heart throughout his remarkable life, which ended after nine decades on December 7, 2008. A plaque honoring his induction into the inaugural class of AU's Stafford H. Cassell Hall of Fame hung on his wall from the moment he received it in 1969 until his final days.
"He built such strong friendships there," says his daughter, Judy Hanson. "Dad didn't have any siblings, and mom didn't have any family out here, so the AU people were our family."
Undergrad years
Hugo Schulze was born on August 17, 1918, in Martinsburg, West Virginia. Just six months into his life, his father, Herman, passed away, a victim of the influenza epidemic. Suddenly a widow, his mother moved the family of two back to her native Washington.

Growing up in Foggy Bottom, Hugo came to be known as Dutch, after the famous gangster of that era, Dutch Schultz. But the clean-cut, straight-shooting teen-age Schulze couldn't have been more different from the notorious crime figure. His natural athleticism was evident from a young age. A multisport star in high school, Dutch earned an athletic scholarship to AU and quickly garnered headlines of his own.
One of the earliest articles ran in the February 11, 1939, edition of the Washington Star.
"Schulze, All-High member of Western High's Interhigh Championship quint last year, put on a one man show tonight as American University swamped Virginia Medical College, 51-26. Schulze hit the cords for 13 field goals and three free tosses for the staggering total of 39 points, three more than the entire Virginia Medical quint could muster."
Over the course of his four years at AU, Dutch earned a cool dozen varsity letters, four each for football, baseball, and his best sport, basketball. During his senior year he was named to the All-District basketball team and the All-Mason-Dixon Conference football team.
World War II: U.S. Navy
Shortly after graduating with a degree in business administration, Dutch joined the Navy, where over the course of the next five years he saw combat in the Mediterranean and Pacific theaters. In late 1942 he was aboard the USS Tasker H. Bliss off the coast of Casablanca when an enemy torpedo tore through the ship.
"Schulze escaped being trapped in the burning, sinking ship by crawling through a porthole from the communication room, where he was a communications officer, and landing on a lower deck," reads a December 8, 1942, story in the Eagle recounting the incident. "He then clambered over the side of the ship and down a rope to water and safety. Somehow in the process he wrenched his shoulder, but he insisted that it's nothing serious.
"When asked if he'd been scared, Dutch said, 'Scared? There wasn't time to be scared. Everybody had to do something, and do it fast. So I remember that somebody had said you could climb through a porthole. Out we went, head first.'"
Between combat missions Dutch's ship would dock in San Francisco. During one of these respites, he was served a hot cup of coffee by a pretty young lady volunteering at the USO. Jane Bronson was studying the harp at Stanford, and when the two laid eyes on one another, by all accounts, each heard music.
"He was totally devoted to my mom," Hanson says. "Her strawberry blond hair is what attracted him to her. When he came back to shore, he would see her."
Less than a year after they met, they were married.
"He claims that all of a sudden he got a letter one day on the ship, and there was an announcement that he was getting married to Jane Bronson," Hanson says. "He claims 'I didn't ask her to marry me, but I didn't have the heart to tell her.' We knew there is no way she did that. Guess what, we finally got the truth out of him after 65 years of this story. He sent a letter to her dad asking for her hand in marriage. It wasn't until this fall that he let that slip."
Post-war: Return to AU
Dutch left the Navy in 1946 as a lieutenant commander. A civilian once again, he and his bride boarded a train in California bound for Washington, where Dutch had landed a job as AU's assistant basketball, baseball, and tennis coach, and intramural manager. The next year he joined the College of Arts and Sciences faculty as a physical education instructor, earning an annual salary of $2,750.
In 1951 Dutch replaced the legendary Stafford "Pop" Cassell, his mentor, as director of athletics and head basketball coach. For the next five years he ran the athletics department, placing special emphasis on expanding the university's intramural program.
"AU's Schulze Truly an All-Sports Coach," screamed a headline in the March 4, 1954, Star. "For a college the NCAA lists as 'small' and which has been able to muster only 10 basketball players this season, American University is doing well in the Mason-Dixon Conference. Most of the credit for this success belongs to young Athletic Director Hugo (Dutch) Schulze."
Bill Patten, CAS/BA '51, played basketball for Dutch. He remembers a coach who was a skilled tactician, demanding but fair. Dutch couldn't have been too tough on Patten; when Patten got married at the Navy chapel off Ward Circle in 1953, Dutch was in the wedding party.
"He was an expert in man-to-man defense," says Patten. "He was very precise in positioning us to defend the other team. We were always to position ourselves between the man and the basket. You couldn't have asked for a better coach, but that wasn't his strongest thing. He always was honest. He never told you anything that wasn't the absolute truth."
In those days the basketball team practiced in Leonard Gymnasium, where the Katzen Arts Center now stands. Another team used to play there too, Patten recalls.

"He was such a tremendous athlete, that when the Washington Caps came up to Leonard to play, and they wanted to scrimmage, if they didn't have enough players they would ask Dutch to come out on that floor."
The Capitals weren't a hockey team then, they were a professional franchise in the Basketball Association of America, a precursor to the NBA. From 1947 to 1949 those Caps were coached by basketball legend Red Auerbach.
"Red thought the world of Dutch," Patten says.
Federal years
With a burgeoning family that eventually grew to six children, Dutch left AU in 1956 for the National Security Agency, where he worked for 30 years until retiring.
"Dutch Schulze is American University's all-time outstanding athlete," Cassell, then assistant to the president at AU, said in a press release at the time. "He is always a scholar and a gentleman, respected and liked by both the students and faculty. He is an All-American guy."
Dutch aged gracefully, never letting athletics slip from his life. He was an avid golfer and fisherman into his late years, and he made sure that he spent as much time as he could with his 14 grandchildren and three great grandkids.
"Because he didn't have a dad, that was a real soft spot he had," Hanson says. "If there ever was a kid whose dad wasn't present, he would go to their games. He always made sure he'd get to as many of the grandchildren's events as possible, so they knew they had someone who cared about them."
Dutch remained devoted to his beloved Jane until his final days, even living with her on the Alzheimer's wing of the assisted living facility they called home despite the fact that his mind was sharp as a tack to the end.
"He took care of her until his health started to fail," Hanson says. "That's when he kind of gave in. We found them a place near us. He chose to live on the Alzheimer's wing so he could be with her. That's a huge sacrifice. He wouldn't leave her. People were so touched, it would bring them to tears."
Some eyes will be watery, no doubt, during the commemorative reception Dutch requested in lieu of a funeral,
but smiles will be much more prevalent at the party.
"The stuff that has made him a fine athlete, has stuck by him to make him a fine officer, a man who sees a small chance and jumps it without a second's hesitation," the 1942 Eagle story reads. "Here's to you, Lieutenant."
Here's to you, Dutch.