Academics
Supreme Court's Scalia Discusses Landmark Chevron Case, Careers at WCL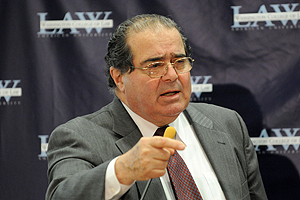 U.S. Supreme Court associate justice Antonin Scalia told law students on Friday that the secret of legal success is simple: "Just work hard and be very good."
The outspoken conservative justice packed the room for an address on judicial review, drawing laughter, applause, and the keen attention of Washington College of Law students with his sharp commentary.
Scalia has served on the Supreme Court since his appointment by Ronald Reagan in 1982. Known as a leading conservative, he is also a former law professor who has written extensively on administrative law.
He spoke at the law school at a conference on judicial review for federal agencies, "Is Chevron Out of Gas? The State of Judicial Review 25 Years after Chevron USA, Inc. v. Natural Resources Defense Counsel."
The 1984 case limited the role of the courts in the judicial review of an administrative agency's interpretation of its own mandate, holding that, when the statute is ambiguous, the court must defer to the agency.
Scalia has been outspoken in opposing a 2001 case that attempted to clarify Chevron, United States v. Mead Corporation.
Students had the opportunity to ask Scalia about points of law – and also for advice on their own careers. Asked by one law student what "smart, hard-working WCL students need to do to be outrageously successful in the law," his reply was frank.
"You have to be good," he said. "It's as simple as that."