In Remembrance
SIS Remembers Dean William Olson, Announces Mentoring Program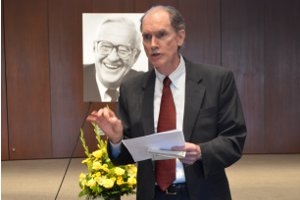 Friends, family and colleagues gathered in the Kay Spiritual Life Center on April 10 to honor Dean William Olson, who passed away last year.
One of Olson's greatest achievements, according to Dean Emeritus Louis Goodman, was strengthening SIS.
"Bill focused on the quality of the academic study of international relations and personal relations within the school," he said. "When he stepped down in 1986, SIS's enrollment had almost doubled. In the 27 years since Bill left the SIS deanship, the school continues to grow firmly in the foundation he created."
Many speakers recalled Olson's devotion to his family, his talent for storytelling and his interest in others.
"Bill had a great gift for sociability," University Professor James Mittelman said. "He had a genuine interest in other people. He made individuals feel really important. [In our conversations] he would make me feel as if I were the most important person in the world."
A native of Denver, Olson served as SIS dean from 1979 - 1986. During his tenure, he founded the academic honor society of international studies Sigma Iota Rho, which now has more than 130 national chapters. Before joining SIS, Olson served in the Army Air Forces during World War II, earned his MA and Ph.D. degrees from Yale and directed the Foreign Affairs Division of the Congressional Research Service at the Library of Congress and was an associate dean at Columbia University's School of International and Public Affairs.
"By asking questions and providing opportunities, Bill was a quintessential mentor," Sherry Mueller, SIS/BA '65, said during her remarks. "I could never repay him. I could only pay it forward."
In paying it forward, Mueller became the lead donor of SIS's Olson Scholars Program, a new one-year program that will match sophomores with faculty mentors who will guide the students through the two semesters of research methodology courses that place undergraduate research at the heart of the revised BA degree. These 15 students, chosen for their passion for international issues, high academic achievement and quality of their proposed research, will be eligible for funding and special opportunities throughout their year in the program.

"As a living memorial to Dean Olson, whose dedication to the mentoring of students was renowned and greatly appreciated by numerous students over the years, the Olson Scholars Program provides a structured, challenging and supportive curricular environment," said Associate Dean for Undergraduate Education Patrick Thaddeus Jackson.

At the service, the participants repeated certain themes in their reflections –particularly Olson's constant grin.
"My memories contain Bill's warm, steady smile. When his smile punctuated the conversation, I knew I had it right," said Goodman.
"Let us do what Bill would be doing now," he said. "Smile broadly, so broadly that others know that they are on the right path."