Alumni
From the A-Team to Rubik's Cube: Remember the '80s with AU This Fall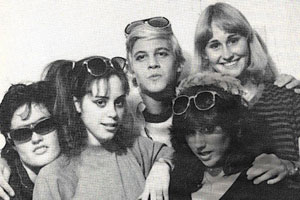 When the space shuttle Columbia lifted off in 1980, a can of Coke cost a mere 40 cents. By 1985, when musicians banded together for the Live Aid Concert to fund relief efforts for the famine in Ethiopia, a gallon of gas was only $1.21. 
The 1980s gave us MTV; Pac Man; ripped jeans and neon clothes; Cabbage Patch Kids; and music icons like Michael Jackson, Duran Duran, Cyndi Lauper, REM, and Billy Idol. We watched TV shows like Miami Vice, Cheers, Dallas, Alf, Family Ties, MacGyver, The Golden Girls, and The Cosby Show. 
You can relive all this - and more - at the 80's Decade Reunion during the All-American Weekend Celebration, October 22-24, 2010. 
What do you remember about the '80s at AU? "When Graham Nash played the spring concert it was just an amazing, perfect day," says Jim Carroll, SPA/BS '83, who was director of the Kennedy Political Union from '82 to '83. He also remembers seeing David Johansen (of the New York Dolls, also known as Buster Poindexter) in concert. "Huey Lewis was in the audience and tried to get on stage with him, but David Johansen wouldn't let him." 
"Tuesday night was a hopping night at the Tavern because no one had classes on Wednesdays," says Carroll, whose best memory of his '80s AU experience was meeting his future wife, Kim Rawicz Carroll, SOC/BA '83, at the Tavern in 1981. This year they will celebrate their 25th wedding anniversary. 
Carroll's senior year, the basketball team beat Georgetown. "Everyone was excited," he remembers. "There was dancing in street. We even shut down Massachusetts Avenue." 
Hundreds of graduates from the '80s decade, before and after will flood back to campus for All-American Weekend on October 22-24 with their families and friends to celebrate their AU memories. We hope you'll plan to come back and show off your dance moves like you used to in your dorm room. Jackets with big shoulder pads, legwarmers, and teased hair are optional. 
Don't wait for the Breakfast Club to reunite after Saturday detention—come back to AU and reconnect with all your friends who remember it just like you do. 
The cost for the reunion is $25 per person, which includes heavy hors d'ouevres and drinks. All those who pre-register will receive a free gift. 
Whatever you remember about the '80s, Your AU reunion is sure to be a blast.