Alumni
Calling the classes of the 1990s, 2002 & 2007
It's your time to reconnect, reminisce, and celebrate at All-American Weekend 2012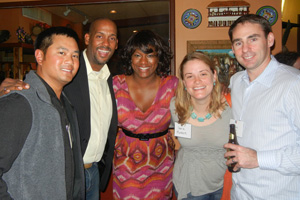 The annual All-American Weekend celebration, which brings alumni across from the World back to campus, is a wonderful opportunity to reconnect and reminisce with old classmates, professors, staff, and others who contributed to your experience at AU.

You might be thinking, "Why should I come back? I have Facebook, Twitter and Linked In. That is all I need to keep in touch with friends." Yes, those platforms are great for reconnecting with friends. But you can't replace the experience of seeing the excitement on your friends' faces when they see you on campus again. It is wonderful to see friends hugging, laughing, and reminiscing about staying up all night in the library to study for a tough exam.

Don't you want to come back to see how the university looks today? Even in just five short years, the campus has changed. One thing that is always incredible about returning to your alma mater is seeing the development that has taken place since you left. There are a number of building and campus tours offered throughout the weekend.

If you're outside the metro D.C. area, returning for All-American Weekend is a great excuse to travel. Let's be honest, the experience of Washington is probably one of the many reasons you decided to attend AU. Every year, the district is brings new museums, monuments, restaurants, and more. You can turn your reunion experience into a mini-vacation.

Are you looking for a new career or trying to expand your business? All-American Weekend is a great place to network. Over 800 alumni descend to campus each year. This is a great time to seek out your classmates in fields related to yours. Your class reunion is a great time to have fun while discussing business over a cocktail. College was a special time in all of our lives. We can't go back, but wouldn't it be nice to revisit it for a little while?

All-American Weekend registration is opening in just a few days. Be sure to contact your classmates and encourage them to attend. For more information about your reunion event, please go to alumniassociation.american.edu/aaw.