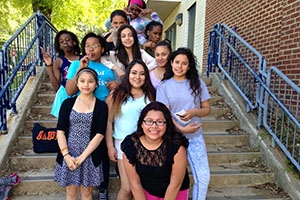 September 8
After announcing a new book award to students this summer, the AU Latino Alumni Alliance proudly recognizes Melissa Ramos as the first winner
More Success Stories
Rev. Kenneth Jones, Class of 1948, reflects on his time as editor of The Eagle, and what it means to keep the paper alive today.

Alumni Board Member Koesha Varela makes her mark in the digital world.

Ben King provides alternative healing techniques to US veterans through his organization.

Daniel Alejandro Leon Davis achieved his college dreams, despite seemingly insurmountable odds.

Alumni Board member finds dream role as healthcare consultant with Deloitte.