Alumni Profile
Alumna brings enthusiasm, social media experience to role as VP of the YAC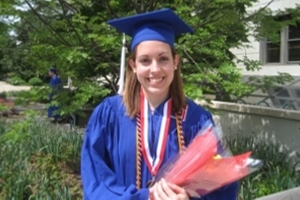 After graduating from AU less than three years ago, Amanda Fulton, SPA/BA '09, has been elected vice president of the Young Alumni Chapter. Continuing her service to the university even after graduation, Fulton is excited to increase involvement of recent graduates in the YAC, especially using expertise in social media.
During the day, Fulton works as a legislative assistant and new media manager for Congressman Brian Higgins (D-NY). She works on a host of policy issues as well as running social media for the Congressman's D.C. office. Her job allows her to work within two of her vocational passions, politics and communications, both of which she studied at American University.
As a student, Fulton committed herself to numerous internships on Capitol Hill while also working with the Student Government for much of her time at AU. During her tenure as director of the Kennedy Political Union in 2008, Fulton was present as the Kennedy family endorsed Barack Obama for President in Bender Arena.
Drawn to American for the caliber of its honors program, as well as its proximity to Capitol Hill, Fulton credits her education and opportunities at American for her ability to find a job as a legislative assistant after graduation.
"I know that these days it's hard for anyone to get a job, especially on Capitol Hill, and I know that my familiarity with the Hill and the D.C. area along with my interning experience helped me get a job," said Fulton. "Also, I felt very prepared for the job search. American is a very well-regarded school on the Hill. Having AU on your résumé was just another plus when it was being reviewed."
Fulton credits the welcoming and supportive atmosphere of the AU community for helping her to develop the skills she needed to be successful in her career.
"The best part of my experience at AU was just the people on campus; that's what won me over when I was searching for schools," said Fulton. "The openness, the friendliness, the willingness to help. It made me feel like the sky was the limit and that there would be people support to me."
Today she is excited to give back to the university through her involvement with Alumni Relations. Specifically for alumni who have graduated within the past ten years, the Young Alumni Chapter regularly hosts happy hours, networking events, and volunteer opportunities to connect D.C.-area alumni.
Through her involvement in the chapter, Fulton already has had the opportunity to meet AU alumni she did not know as an undergraduate. With her enthusiasm for the university and knowledge of social media, Fulton hopes to connect the next class of AU graduates with the chapter.
"I hope to find out what kinds of things we can provide to recent alumni as well as make sure that each new graduating class knows that the YAC is there and that they can get involved with the chapter and chapter leadership," said Fulton.
For more information on the Young Alumni Chapter, visit our Web site, like us on Facebook, or follow us on Twitter @AmericanUAlum. The next YAC event is a Capitol Hill Young Alumni Happy Hour on October 27.