Alumni Success Story
Global Activist '94 Exemplifies Service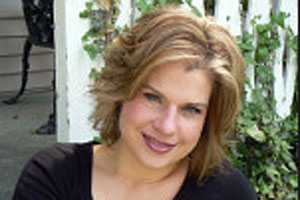 Amy Gopp, SIS/BA '94, has traveled the globe and seen those hit by war, poverty, and natural disaster, yet she is not a bystander. Her most recent focus is aimed at responding to Haiti's need for emergency aid since the earthquake on January 12. While she plans to go to Haiti in the future, she wants to be strategic about when she travels, since she understands that going too soon would put her in the way of emergency workers during a vital time. For now, she's focused on fundraising – and she's raised $1 million in less than a month.

"My goal is not to be a first responder, but to provide resources," she says.

Gopp draws on her experiences as a missionary, preacher, global activist, and peacemaker, in her role as executive director of the Week of Compassion's relief, refugee, and development mission of the Christian Church (Disciples of Christ), which receives and distributes about $3 million annually to respond to disasters and promote sustainable development in the United States and abroad. The "week" of compassion is year-round, despite its name, which reflects the program's history as a special offering in the denomination.

It was fellow alumna Holly Riester, CAS/MA '03; SIS/BA '93, who called attention to Gopp's work. In an e-mail to AU she said, "Amy epitomizes the 'service' that gives SIS its name."

In February, Gopp's colleagues in Haiti, who had just gotten through the search and rescue phase, told her conditions were "abominable." The biggest obstacle: meeting the basic water, food, and shelter needs of so many people.

"It's about the conditions that were already there—or not there," she says, speaking of the Haitian government's lack of services for its people, even before the earthquake.

Gopp has seen the gamut of conditions in her travels. In the war-ravaged former Yugoslavia, she lived for four years as a peace activist and missionary. She worked in Croatia and Bosnia, helping refugees, promoting interfaith dialogue and education in conflict resolution. She also coordinated an award-winning, interfaith choir in Sarajevo, Bosnia and Herzegovina.

Other relief sites she's worked at include Indonesia, Kenya, and the Sudan. No task is too big or too small, she says. She helped in the wake of hurricane Katrina in 2005, but she also regularly calls small towns in the United States after it snows to ask if they need help.

"I credit SIS for the work I do today," she says. "I learned at a young age what it means to be part of a global community, and that I have a responsibility to give back."

Gopp, who also holds a MA in Conflict Resolution from Antioch University in Ohio and Master of Divinity degree from Union Theological Seminary in New York, says, "Without hope, I could not do this work."

Despite taking great satisfaction in her regular work, Gopp has embarked on a new project, too. She's contributing editor of a new book coming out this August – a collection of essays by young people reflecting the diversity of American Christianity, titled Split Ticket: Independent Faith in a Time of Partisan Politics.

In an unpredictable world, one thing's certain: Gopp acts on the ideals she learned at AU and SIS in her life's work—above and beyond the normal 9-5 work week.