Capital Campaign Success Story
Art Matters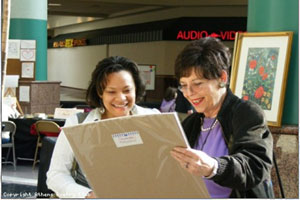 "If fine arts were supported like sports are in our society, there would be no starving artists," notes Annemarie Kaim Collins CAS/MFA '87. An artist and poet currently living in Martinsburg, West Virginia, Collins dedicates much of her time and energy to elevating the role of art in society by raising arts awareness and increasing opportunities for artists and writers of all ages.

Most recently, she established the Anne K. Collins Scholarship endowment at American University—a fund dedicated to providing opportunities to MFA students in studio art and creative writing. "People who follow paths of creativity do not have the same guarantees in life as those pursuing other professions," Collins says. "I wanted to create this fund at AU, which had a major role in shaping me as an artist, to help fine artists and writers do what they really want to do."

In 2003, Collins cofounded Athens on the Opequon, a nonprofit organization dedicated to promoting interest in traditional poetry, literature, and fine arts in the Martinsburg area and beyond. Once a month, society members meet to facilitate workshops with local writers, and they are regularly invited to speak at local schools about issues related to cultural awareness and arts appreciation. The group also organizes "Hearts for the Arts," a two-day, biannual festival that features more than 50 writers, painters, photographers, and artists who, through sharing and selling their work, demonstrate the importance arts have within the community.

Collins's artwork has been exhibited in galleries in Washington, D.C., and New York, New York. A native of Germany, she also has two paintings hanging in an office building of the German parliament.

Collins welcomes AU students, staff, faculty, and alumni to exhibit their work at Athens on the Opequon's upcoming "Fall for the Arts" festival, scheduled for September 13–14 in nearby Martinsburg. For more information, visit www.athenspoetry-club.org or contact Collins directly at 304-267-7567 or use link at right to email her.