Alumni Success Story
Bay Area Boasts Fresh Faces to Lead Alumni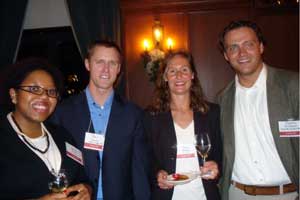 The San Francisco alumni chapter recently welcomed two eager eagles to lead the chapter. Although Erika Faieta, SPA/BA '02, and Grace Boone, KSB/BSBA '05, didn't know each other during their college years, they both moved to California after graduation and they're pleased to join forces to engage alumni in the San Francisco community.
Meet the leaders 
When she was student, Erika Faieta's favorite spots on campus were TDR and Jacob's Fitness Center. Though she misses her AU hangouts, she didn't leave everything behind after saying farewell to AU's quaint campus. Faieta has successfully taken the skills and knowledge she acquired during college across the country. She's applied her degree in political science and communications to multiple aspects of her career, through her work in local state politics, public relations, and currently in sales and marketing at Peterson Power. 
The chance to "reconnect with the faculty, staff, and alumni from AU," as well as the opportunities to strengthen the west coast alumni network is what inspired her to apply for a volunteer position with the San Francisco alumni chapter. 
In her spare time, and when she's not commuting two hours to work each day, Faieta enjoys yoga, hiking, and walking her pit-bull Millie. Faieta loves to travel, and has a short list of dream vacation locations, including Costa Rica, Brazil, Egypt, Cuba, and Jamaica. 
Grace Boone has held various positions since her undergraduate days, from sales and marketing to her current role as a special events manager for Girls Incorporated of Alameda County. Event planning is second nature to her; she coordinates two major fundraising events and numerous smaller functions each year. 
Boone is a motivated volunteer, with ambitious goals for the chapter. "I want to make sure that there is a strong alumni chapter that can keep alumni connected to the university; provide space for prospective students, current students and recent graduates to get information and a network; and (most importantly) have fun," she remarks. Boone wholeheartedly believes that AU helped paved the road for her to have a successful career. Professors who have inspired and encouraged her along the way include Bob Sicina (KSB) and Russell Williams (SOC), to name a few.

During her down time, Grace loves to cook and bake and she is very adventurous in her approach. "I love trying new combinations like chili-mango with lime frosting or maple-bacon with maple frosting," she says. 
Meet Grace, Erika, and other AU Alumni and parents at the next San Francisco alumni chapter event: An Afternoon at the Winery will be held on Saturday, February 20 at Wente Vineyards. 

Interested in applying for a chapter leadership position? Contact Suzanne Smith at 202-885-5933 for a volunteer application.