Alumni Success Story
Meet Erin Fuller, Alumni Board President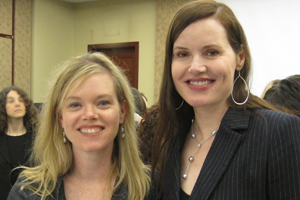 Erin Fuller, SPA/BA '93 and SPA/MPA '94, is an AU Eagle through and through. As the new president of the AU Alumni Board, Fuller is more excited than ever to be a graduate of American University. "The alumni of AU are so strong, and we've only really begun to scratch the surface of how we can tap into that."
Fuller, who served two terms as the board's vice president, succeeds Brian Keane, SPA-SOC/BA '89, and hopes to build on the excitement she feels from a history of working with the group. Fuller wants to encourage more alumni in becoming engaged with the university through volunteer opportunities and events. "What we can do is be great ambassadors for the school," she says.
President Kerwin's campus plan allows many opportunities for involvement by alumni, and Fuller's experience is that alumni who come back to campus take great pride in what is new and different, especially building improvements such as the new addition to the Kogod School of Business and the construction of the Katzen Arts Center. 
Fuller not only encourages fellow alumni to be ambassadors for AU, but also to serve as role models for new graduates, current students and prospective students. "It's really important that we continue to identify and promote people who have interesting stories to tell," she says. "We have a very diverse legacy that we need to do a better job of consistently celebrating."
Fuller, who credits her experiences at AU with preparing her for her current work as president of the Coulter Companies, has always been passionate about gender equality. She helped start AU's women's confederation as a student. She now works on strategy and innovation with nonprofit organizations and is the president for the Alliance for Women in Media. She also is a past CEO of the National Association of Women Business Owners.
Laughing, Fuller remembers another thing that has continued since her time as a student. "I am a charter subscriber of Entertainment Weekly," she says. The magazine, which Fuller began reading since her time at AU, is a resource now, as she works to promote women in media. Combining her many passions, she says, is "endlessly fun."

Fuller and her husband, Mike Leurdijk, SIS/BA '94, can often be found at basketball games and other campus events with their two sons, ages five and two. The family of AU Eagles resides in Arlington.