Alumni Success Story
Freshman Service Experience, the Tradition Continues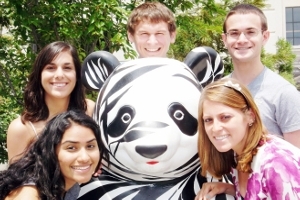 This year, for the 22nd year in a row, more than 600 members of American University's incoming freshman class will celebrate the spirit of service at AU by participating in a tradition called Freshman Service Experience.  

FSE is a three-night, two-day program built on community service, academic changes, leadership development, and orientation to American University and Washington, D.C.  During the day, student-led volunteer groups work at more than 40 nonprofit work sites throughout the city.  In the evenings, participants meet with faculty, alumni, deans, community leaders, and policymakers to discuss how the work they have done in the community relates to the academic challenges that lie ahead.  There is also programming each night highlighting the rich and unique culture of D.C. through local performers.

This year, the theme of the Freshman Service Experience is "There's no place like DC" and the five student FSE Coordinators are working to connect that theme with everything they do.  The student coordinators have all been involved in FSE before and have spent the summer preparing this year's program.  

Coordinator Tom McNutt, a rising senior in the School of International Service, mentioned that an important part of the experience for incoming students is the perspective their leaders bring.  The FSE program relies on the leadership of more than 90 leaders returning to campus early and volunteering their time and energy to ensure a great experience for the new students.  

McNutt and fellow coordinators, Tyler Sadonis, Lisa Mickolajczyck, Brittany Gada, and Cindy Zavala, have worked this summer building on existing relationships with local nonprofits and continuing to identify new sites with which AU and the Office of Community Engagement and Service will build relationships.  

Coordinators also spend a great deal of time learning about Washington, D.C. and the social issues that face District residents.  This helps them build evening programs that teach the freshmen that there is more to D.C. than Tenleytown and American University Park.  The hope is to empower them to intelligently discuss and address issues like gentrification, the wealth gap, and the extreme disparities in unemployment levels in the city's various wards.