Alumni Success Story
California Wellness Leader Helps At-Risk Teens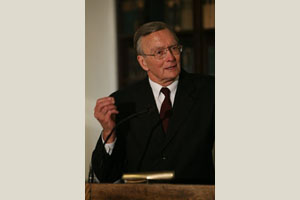 "I learned to listen," says Gary Yates, SPA/BA '67, of the biggest message he's absorbed working with troubled adolescents. Reality for teenagers is quite different from his or other adults, he says.
As president and CEO of The California Wellness Foundation (TCWF), Yates has devoted his life to helping young people learn to make good decisions about their lives. Founded in 1992, TCWF is a private, independent foundation that works to improve the health of the people of California.
People can overcome bumps on the road, he says. "If given half a chance, most people who've had difficulties can turn their lives around."
A native of the Washington, D.C. area, Yates studied political science at American University in the late 1960s. He played on the university's basketball and baseball teams and remembers fondly the baseball team winning the Mason Dixon Conference during his senior year.
Yates served in the Army for two years following graduation and used the GI Bill to get a Master's Degree in counseling psychology at the University of Northern Colorado.
He ended up in Hawaii, where he worked with young people at the Honolulu Junior Academy, an alternative high school where he developed a human relationships curriculum for high-risk youth for which he's extremely proud. Since 1982, it has been considered one the best programs in the country.
His work at TWCF over the past 16 years is nothing to sneeze at either; it has awarded 5,418 grants totaling more than $674 million.
Nearly 40 years later, working with adolescents and raising five sons (with his wife, who also attended AU), Yates shares the following wisdom:
Always let your children know you love them.

Clearly explain your values and expectations.

Hold your children accountable for inappropriate behavior.
In addition to his work at the foundation, Yates is assistant clinical professor of pediatrics at the University of Southern California School of Medicine. A recipient of numerous awards, Yates is actively involved in the leadership of numerous philanthropic, civic, and community organizations.