Alumni Success Story
Globe-Trotting Alumnus Puts
Down Roots in Fairfax County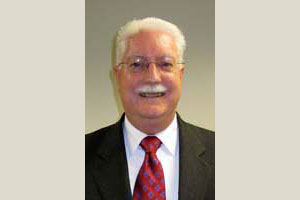 Gilbert Donahue, SIS/BA '68, spent decades traveling the world as a U.S. Foreign Service officer and contractor. Fluent in Spanish, French, Portuguese, and functional in Mandarin and Cantonese Chinese, he eventually decided it was time to reconnect with his own community.
A native of Virginia, with roots dating back to 1610 on his mother's side, he became interested in genealogy and local history.
"This was a focal point I wanted to pursue -- it was personal interest," he said. "It was strong enough to make a job change."
So in 2004, Donahue settled into his current position as VP for business development with Harlan Lee & Associates LLC, a defense contractor, and he became involved in community affairs in and around his Annandale, Va. home.
His interest in local history, coupled with photography skills he developed documenting the different places he lived and worked, such as China, Taiwan, and Hong Kong, led naturally to his participation in a project documenting 20th century life in Fairfax County, Va.
As digital archivist for the book Braddock's True Gold: 20th-Century Life in the Heart of Fairfax County, a history of the county's development and transformation as told by longtime residents, Donahue was in charge of the book's graphics, maps, and photography.
"We wanted to capture their impressions of the historical changes that had happened in their lifetimes, and also the things they heard from their parents and grandparents and would share with their children," he says of the interviews that formed the basis for the 2006 book.
With that project completed, Donahue is now working with the book's other authors to establish the Fairfax County Museum.