Alumni Success Story
Family Tradition Guides Balmuth
to Retail Success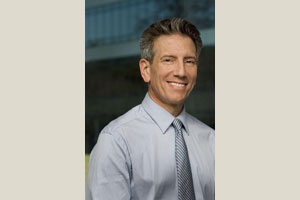 Almost everyone on both sides of Michael Balmuth's family worked in retail, so, he decided to rebel against the family tradition by studying history and health care administration. "My father encouraged me to study something I was interested in, not necessarily the basis for a career," he says.
But family traditions are stronger than youthful rebellions, and Balmuth's father was not surprised when his son entered the management training program for a department store that culminated in his current position as president/CEO of Ross Stores, Inc.
When Balmuth, CAS/BA '72, came to AU from Long Island, N.Y., he was looking for ways to combine social and business interests in a career not related to retail. He earned a graduate degree in health care administration from George Washington University and worked as an assistant administrator at a small Long Island hospital.
But his friends were talking about their jobs in retail and "it seemed more interesting than what I was doing," Balmuth says. So he joined the training squad at Bamberger's, a Macy's-affiliated department store, where he worked his way up from assistant buyer, to sales manager, to buyer of ladies' apparel, to merchandise manager, to group vice president.
For Balmuth, retail turned out to be a dynamic, competitive field that provided constant challenges: sales results, negotiations, personal relations, trends, and competition. "I found it to be interesting, challenging, and fun," he says.
Before joining Ross Stores, Inc., in 1989, Balmuth served as senior VP and general merchandising manager at Bon Marche in Seattle and executive VP and general merchandising manager for Karen Austin Petites.
At Ross Stores, Inc., a Fortune 500 discount retail company that operates 956 Ross Dress for Less stores, Balmuth is responsible for strategic direction, profitability, and growth. He splits his time between Manhattan and company headquarters in Pleasanton, Calif.
Since becoming CEO 13 years ago, Balmuth says his biggest accomplishments are the company's annual sales rising from $2 billion to $6.5 billion, promoting executives, and more than tripling the number of stores. "Moderate priced and value-oriented retailers are performing a little better in current economic times," he says. "Value is in vogue."