Capital Campaign Success Story
Brown Gives Back with
Scholarship Fund
By Lee Holsopple
February 16, 2009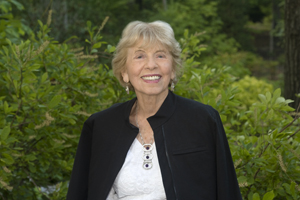 Sylvia Brown, CAS/BA '65, loves learning. She came to AU at the age of 38, determined to finish her bachelor's degree. Brown had been paying her own way at Boston University when World War II broke out. She joined WAVES (Women Accepted for Volunteer Emergency Service) a World War II-era division of the U.S. Navy that consisted entirely of women. Twenty years later, inspired by her friends at the League of Women's Voters, and with the full support of her husband, Alfred Brown, the mother-of-two returned to school.
Brown, a native of Cambridge, Mass., was the fourth of seven children. Her father, the owner of a hardware store, believed in hard work and common sense, not education – not for boys, and much less for girls. But Brown got a solid education at Cambridge Latin High school and headed to college.
At AU, Brown explored a lifelong fascination with various cultures and how they worked and studied psychology and sociology. After graduating in 1965, she attended Rutgers University, where she received her master's of social work.
The Browns established the Sylvia and Alfred Brown Scholarship Fund in 1999 for a student studying chemistry and sociology at AU. Through his research, Alfred Brown had developed strong relationships with the professors in the AU Chemistry Department, and Sylvia believed in the vitality of providing funding opportunities for today's students. Brown gives back to AU because she believes in funding education.
Today, Brown continues to be an active learner. She's taken courses through AU's Osher Lifelong Learning Institute (OLLI), since it began 26 years ago. She still loves teaching, too, and serves as a weekly reading and writer tutor as part of OASIS Intergenerational Tutoring.
Brown counts returning to school among her greatest accomplishments. "It colored my life from then on," she says. "My exposure to the world, my social context – I felt so much more fulfilled after that."