Alumni Profile
Bennett Brings Experience, Excellence to Board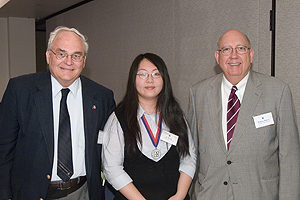 If there's one rule for getting Tim Bennett, KSB/BS '66, involved, it's "ask before someone else gets him." As an active member in groups ranging from the Scottish Rite to the annual Georgetown House Tour, Bennett has consistently lent his knowledge of the greater D.C. area to a host of organizations through extensive volunteer work.
When George Whitehouse, KSB/BS '69, learned of Bennett's interest in volunteering, Whitehouse wasted no time in getting Bennett on to AU's Alumni Association Board. Bennett was eager to come back to the school to which he was grateful for his "exceptional education" and impressed with its recent growth.
A native Washingtonian for a good part of his childhood, Bennett attended the University of Maryland at College Park, worked six-years at the Navy Federal Credit Union, and then Strayer University before finding his way to AU to complete the last two years of his bachelor's degree.
He worked for a time at the National Association of Securities Dealers, until he was offered an impromptu interview with investment firm Folger, Nolan, Fleming, Douglas. "I'd already eaten lunch, and then they invited me down to lunch at the Metropolitan Club," Bennett recalls. Pushing through another full plate, Bennett was invited the following week to join the firm.  
Now more than 30 years later, Bennett's career serves as a backdrop to his tireless work to promote AU in the many circles he travels. When he was told that George Washington students received scholarships from the Scottish Rite Masons, he didn't hesitate to get AU students the same advantage. "My first question was, 'why not AU?'"  
The result: a $15,000 per-year scholarship from the D.C. Grand Lodge of Masons, renewable for up to four years through high academic achievement.
Bennett says he's excited to be a part of American University during a time of such impressive growth. "I'll always continue to be involved," he says. AU is lucky to have his leadership, experience, and enthusiasm.