Alumni Success Story
The TV Guide: Tom Shales Opines
with Wit and Humor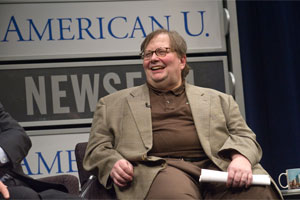 Imagine this amazing gig: watching TV all day and penning witty columns about the shows that rock your boat or make you reach for the remote. But that's just a day in the life of Tom Shales, AU alum and TV critic for The Washington Post… or is it?
"Boredom compounded by tedium," is how Shales, SOC/BA '67, describes his average day. "A great deal of harassment from various sources and a lot of guilt over work that I was supposed to finish the night before."
Although he writes with Oscar Wildean, sharp-witted humor, his voice is a deep rumble as he talks about growing up in Elgin, Ill., where he once amused his 8th-grade teacher, Mrs. Peterson, by stringing random 25 vocabulary words into humorous narratives.
In addition to Mrs. Peterson, Shales credits his mother, Jack Paar, and Pauline Kael, "who was as brilliant a writer as she was a critic," for inspiring him to write.
One of Shales' most memorable professors at AU was Harry "Light Horse" Lee, who said that good writers win over their readers with lively prose. "Every paragraph should be like an orgasm," Lee taught.
After graduating from AU, Shales worked as entertainment editor at the Washington Examiner for three years. In 1972, he joined The Washington Post as a writer in the Style section. Five years later he was named the newspaper's chief television critic and TV editor began writing a syndicated column. In 1988, he received the Pulitzer Prize for his "television criticism."
In addition to his columns and guest appearances on TV and radio, Shales has written three books: On the Air! (1982), Legends: Remembering America's Greatest Stars (1989), and Live from New York: An Uncensored History of Saturday Night Live (2002), which he co-authored with James Andrew Miller.
He counts "six or seven, but four in working order" TV sets in his house. He watches four to five hours a day. Since the explosion of cable, Shales says "now is harder than ever to decide what show may be interesting, good, or bad. I always hope my antenna is turned the right way to pick up what's new and innovative and interesting."