Alumni Success Story
Ohio Superlawyer Rising Star to Lead New Cleveland Alumni Chapter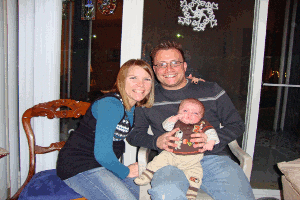 Spring brings growth in many forms, and at AU this season a new alumni chapter is sprouting in Cleveland, Ohio, home to nearly 500 eagles.
Anthony Vacanti, SPA/BA '02, is one of three alumni volunteers – along with Neil Young, KSB/BSBA '78, and Toni Bacon, SPA/BA '97 – who have stepped forward to lead the new group. "I hope our events will foster a sense of community and fun, and provide networking opportunities, while at the same time demonstrate support for our alma mater," he says.
Vacanti decided to volunteer in part because he had such a positive student experience. He has "too many" good memories to try and list them all, but highlights include being a member of the Delta Chi fraternity and an intern at the U.S. Senate during the impeachment trial of former President Clinton. His favorite professor: Ellen Feder, who teaches in the CAS philosophy department. She not only helped him obtain an internship at the D.C. Public Defender's office, but she also encouraged him to double major in philosophy, which Vacanti credits as being one of his "most rewarding academic endeavors."  
With the days of fraternity gatherings and philosophy papers behind him, Vacanti's career has taken a number of interesting twists. Upon graduation from AU, he spent a year backpacking through a series of National Parks after graduation, and then enrolled in Case Western Reserve University School of Law, to earn his Juris Doctorate, magna cum laude, in 2006. After clerking and working as a summer associate at Buckingham, Doolittle & Burroughs, LLP, he is now a full-time associate specializing in real estate, land use, construction, and real property taxation matters. 
Vacanti demonstrates incredible promise in both his profession and community. He was selected as an Ohio Superlawyer Rising Star in both 2009 and 2010. In addition to serving as an AU chapter leader, he is a representative for the Ohio State Bar Association Young Lawyers Council, a board member for the Cleveland Kids in Need Resource Center, and a member of the Young Leaders of the Cleveland Urban Land Institute.  
Meet all three Cleveland alumni chapter leaders – Vacanti, Bacon, and Young – at the inaugural chapter Spring Social on April 8 at Shula's 2. Register today!