Alumni Success Story
Brady, '89, Building the Future of Online Journalism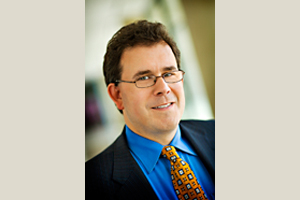 At a challenging time for the news business, Jim Brady is optimistic. "The tools for journalism have never been better than they are now," he argues.

Brady, who recently joined the Journal Register Company as Editor-in-Chief, had been hired to create a local Washington, D.C. news site for the company that owns Politico, and announced that he would partner with SOC on the project, launching TBD.com. He cited Dean Kirkman's commitment for the school to keep pace with a rapidly changing media environment and the high caliber of students and faculty at SOC as factors in his decision. 
In a Guardian interview, Brady said there were several things that appealed to him about this job.
"Being on the digital side is where my heart is and I think doing something that was not associated with a legacy product was important," he said. "I was in journalism for 24 years, and I wanted to do something that helps guide a path for other people in terms of building businesses around journalism."
Brady helped to launch washingtonpost.com in 1996, spent four years at America Online and then returned to washingtonpost.com in 2004 as executive editor, helping it win the first-ever national Emmy for Web work in 2006.

In December of 2008, Brady left washingtonpost.com. He joined the Guardian America operation as a digital editorial consultant. 
Back in the 1980s, Brady was still honing his reportorial skills at SOC, The Eagle and the Washington Post, where he started working as a sophomore. He credits retired professor Jim McCartney for teaching him the "nitty gritty" skills he needed to find sources, including FOIA, and the late SOC advisor Rich Stout for making sure his classes didn't interfere with his part-time job covering sports for the Post.
Brady's convinced this real-life experience was essential to his success. "You can't do it all in the classroom," he says. "You have to do it as a job or an internship, where the consequences of what you do, by putting something in The Eagle or the Washington Post, matter."  

He notes that as a school with an outstanding reputation located in a major media center, SOC is "a great place to get internships."

And Brady's made sure many SOC students get them at washingtonpost.com while he worked there. He's also participated in the Alumni Mentoring Program for the last four years, been a guest lecturer, serves as DC chair of the SOC Alumni Ambassadors, which reaches out to alums regionally, and will join the SOC adjunct faculty in the spring.

With TBD.com, Brady predicted general news sites would become more niche oriented and "online news would increasingly feature more multimedia, more conversation between journalists and readers, a revolution in mobile news and more database applications." Digital technology and the best practices for using it will continue to evolve, he believes, and that's good news for an industry rethinking its future.
In December 2010, Brady announced that he'd be leaving TBD over differences with Albritton.