Alumni Success Story
Young Alumna Wins Change
Agent Award
Office of Multicultural Affairs Presents Awards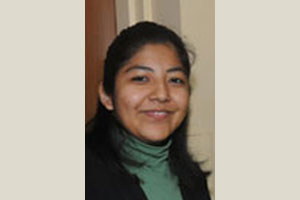 A litany of nonprofits have benefited from her selfless, untiring work: the Engaging Leaders Program, the Kogod Volunteer Initiative for Tax Assistance, the Latinas Promoviendo Communidad, to name just a few. But giving comes naturally to Vanessa Rodriguez, KSB/BSBA '06, currently a joint MBA/JD student at the Kogod School of Business and the Washington College of Law, who recently received the Change Agent Award from the Office of Multicultural Affairs in recognition of her consistent commitment to volunteer causes.
"If I can do it, why not?" says Rodriguez, who is particularly drawn to causes within the Hispanic community. She is deeply committed to filling mentorship and leadership roles in a group which she feels often lacks strong role models, and wants to do her part to ensure that the support which sustained her as a child continues to help others. "I received a lot of help in my community, people checking essays, sending links to scholarships," Rodriguez recalls. "I want to do what I can."
 Her first volunteer job came as a sophomore in high school, when she served as a group leader at a camp for middle school girls. Rodriguez likened the camp to a Girl Scout outing, designed to empower young Latina women. The experience allowed Rodriguez to give back and make a contribution she has since repeated many times over.
"Her work just comes from the heart – it's not connected to her job," says Tiffany Speaks, director of Multicultural Affairs. She noted how remarkable Rodriguez's volunteer commitments were given her workload. As a student pursuing a joint MBA and law degree, Rodriguez already has plenty of academic work to keep her busy - but she always finds time to give to her school, and to others. "She has always had a passion for and connection to AU," says Speaks.
Rodriguez was a member of the Kogod Dean's Search Committee as an undergraduate, and also served as treasurer and co-director of the Latino and American Student Organization. As current president of the Latino/Latina Law Student Association, she helped recruit undergraduate students to attend the WCL Hispanic Law Conference, and also co-sponsored the Latino Law Panel during Hispanic Heritage Month. She is also the treasurer of the law fraternity Phi Alpha Delta. 
Her volunteer work provides a good foundation for her future plans. After completing her law and business degrees, respectively, Rodriguez hopes to make a difference on a larger scale. In time, Rodriguez would like to start a global nonprofit assisting with education resources, starting in Latin America. Her goal reflects the same steady, determined outlook which allowed her to embrace her dual degrees, and her various volunteer activities with equal enthusiasm and dedication. "I was drawn to law because it impacts society, every person," she says. And she wants to do the same.
At the end of each day, the internal sense of achievement is only part of what drives Rodriguez to give back. The strongest incentive, and the greatest compensation, of her work is much simpler. "Having the students say 'thank you,'" she says, recalling one touching moment. Then she remembers another day, when the students stood up and declared plans to give back themselves. The moment provided a quiet reward for a lady so deeply committed to sustaining the cycle of service in her community. It meant a lot, she says, "knowing that they will pass it on."