Alumni Success Story
Where in the World is Nicholas Schmidle? SIS Grad Reports from Around the Globe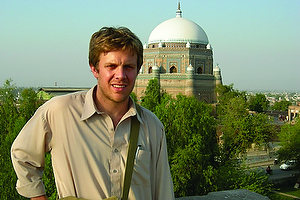 "You just take a notebook and start asking people questions … There's something about having a notebook … it gives you license to ask the questions you're always curious about," says journalist Nicholas Schmidle, SIS/MA '05, of his profession. Schmidle and his notebook have been to the far reaches of the world, and he isn't afraid to venture into dangerous areas to get to the heart of a story.

The SIS grad has lived in Iran and Pakistan and traveled all around the world writing articles for numerous publications. He's spent time with the Taliban, interviewed Nigerian kidnappers, and traveled on a yacht with the president of the Maldives. Most recently, he wrote an extensive article for the New Yorker – an almost minute-by-minute account of the Navy SEALs' raid of the Bin Laden compound that has garnered national media attention.

During his first summer at AU, at the urging of SIS Professor Carole O'Leary, Schmidle studied at Tehran University in Iran where he learned to speak Persian. "I can't overemphasize the amount of support, encouragement, and facilitation that Professor O'Leary did to help me," Schmidle says.

After graduation, he received a grant that he calls "every aspiring foreign correspondent's dream come true." The grant allowed Schmidle to spend two years in a country of his choosing, traveling and reporting.

Schmidle wanted to return to Iran, but the political situation there was not friendly to Americans, so he decided to go to Pakistan. He and his wife lived there, wearing traditional clothing and speaking the native language, Urdu. They were eventually deported from the country because of a story Schmidle wrote about witnessing a public lashing of criminals administered by the Taliban.

Describing the incident, Schmidle says, "To be in the middle of this mountainous valley that was so clearly being governed by the Taliban … was just surreal to the point that I couldn't understand how and why I was being allowed to stand there and watch this with a notebook in my hand. That was a pretty profound experience."

Currently, Schmidle is a freelance writer for magazines, including the New Yorker and New York Times Magazine; he is also a public policy scholar at the Woodrow Wilson Center for International Scholars in Washington, D.C. He is working on stories about transnational crime and international law. He also has written a book about his experiences: To Live or Perish Forever.