Alumni Success Story
Alumna Tackles New Position in Football Championship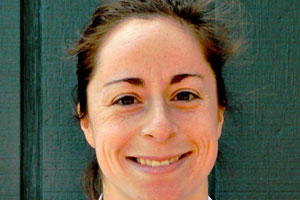 Kathryn Hemlock, BSBA '04/JD '07, will lead the D.C. Divas of the Independent Women's Football League (IWLF) to the East Conference Championships on July 10th in Boston.
The Divas, a female full tackle football team based in D.C., were the 2009 IWFL East Conference Champions.
Hemlock made her debut as quarterback on April 10 with a 54-6 victory over the Baltimore Nighthawks. She took over the position when her predecessor, Allyson Hamlin, decided not to return in the spring.
"The last few seasons I had been playing safety and was sort of the quarterback for the defense, but obviously being the real quarterback is a lot different," Hemlock said. 
"My teammates have been great in the transition and have always been encouraging, showing nothing but confidence in me."
She started playing for the Divas in 2004, after graduating from Kogod and beginning at the Washington College of Law. Three years later, she is a self-practicing attorney in Alexandria, VA, specializing in criminal defense.
"It was at the gym at American where I saw the flyer for the Divas," Hemlock said. "I've been attending Redskins games since I was five or six and always wanted to play football, so once I found out about women's tackle football and the Divas, I knew I had to go for it. It's as exciting and fun as I imagined it would be."
Even though she had never played football before, Hemlock says her experience on her high school basketball team and even in her business classes has helped her succeed.
"Team sports and business have a lot of similarities," she said. "In both you have to try to get the best out of people and manage different personalities. I'm also fairly analytical, so looking closely at situations and trying to figure out how to get the best results is something that I do on the field too."
And so far her skills have paid off, especially as her team moved into the playoffs. They passed the first round in a game on June 12th against the Atlanta Xplosion with a final score of 35-7.
If the Divas win their conference championship, then they will move on to the IWLF Championship game in Round Rock, Texas on July 24th.
"We aren't changing our strategy much, at this point we know who we are as a team and all we can do is get better," Hemlock said. 
"Execution is key, and having everyone take care of their individual responsibility is what will make us successful. We are as talented as any other team in the league, we just have to execute."