Alumni Success Story
Giving Unto Others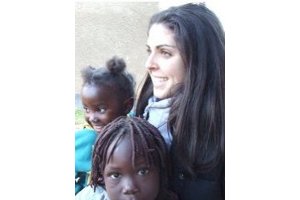 BA, International Studies, focusing on development and Africa; minor, Education Studies, December, 2008
Before she'd even graduated from American University, Julie-Anne Savarit-Cosenza became one of the co-founder/presidents of the African Education Program (AEP), a 501(c) 3 non-profit organization, and an executive committee member of the Amos' Youth Centre (AYC), a registered community service society in Zambia.
The combined mission is to provide educational tools and resources to African students. For now, AEP focuses its work in Kafue, Zambia by promoting education for underprivileged children and HI V/AIDS awareness amongst all the youth there. To date, it has delivered over 20,000 books and 80 computers to schools and communities of Kafue.
In 2006, AEP opened the Amos Youth Community Center, created to establish an educational, creative, and safe environment for Kafue's vulnerable children. The center offers a library, computer lab, HIV/AIDS awareness programs and various academic help programs. Since January 2007, 25 students (all HI V/AIDS orphans) were able to attend school because of AEP sponsorships. During the upcoming school year, AEP will sponsor 45 high school and 6 college students.