Alumni Success Story
The Best of Both (Cocoa-Scented) Worlds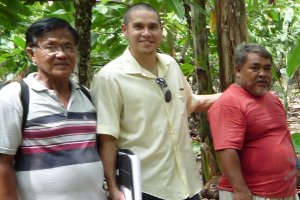 Where does the cocoa in your favorite chocolate candy bar come from? Adam Norikane, SIS/MA '07, knows.

Norikane has spent the last eight months working with smallholder Filipino cocoa farmers as a Mickey Leland International Hunger Fellow with the Congressional Hunger Center.  Norikane was selected for this competitive professional fellowship and placed at ACDI/VOCA, "a nonprofit organization that focuses on broadening economic growth and increasing food security in developing nations, primarily through agribusiness development," Norikane explains.

After having spent the first year of his fellowship in Zambia working with smallholder farmers on livelihoods development and food security projects, Norikane has returned to DC to work with ACDI/VOCA.  He is not only on supporting an innovative and successful cocoa development program in the Phlippines, but also "developing flexible and effective approaches to food security and hunger alleviation through an environmental lens," which he describes as his main areas of interest.

With his dual master's in Natural Resources & Sustainable Development through American University's School of International Service (SIS) and from the University for Peace in Costa Rica, Norikane found that this hunger fellowship program – which he discovered in an email on the ever-busy SIS listserv - was the perfect next step.

Where will Norikane go from here? Anywhere he wants. "This fellowship has given me an invaluable opportunity to gain both field experience and policy experience at an advanced level without the customary time investment required for each of those placements.  It's like a jumpstart for your career," Norikane enthuses.

"I have gained invaluable headquarters level experience to balance my years in the field, while also having had the chance to work on research and be involved with some of the individuals and organizations making impactful decisions at the policy level," he notes.

With the good work that Norikane's doing, you can buy your favorite candy, and support grassroots business initiatives with each chocolatey bite.